November 2006: Fall Into Crafting!
Friday November 03rd, 2006 10:26 AM
As the nights get longer and the days get colder, a whole new round of crafty books are popping up -- just in time for you to start thinking about all the cool holiday gifts you might want to concoct... or the cozy scarves you want to piece together... or the trash you're ready to turn into treasure. Here are five of the best new books around, covering everything from stitching and wire-wrapping to repurposing secondhand debris into all kinds of stylishness.




I had a chance to ask all the writers about the process of creating such cool books, and their favorite projects -- thanks so much to Melissa Rannels, Melissa Alvarado, Hope Meng, Jenny Hart, Tsia Carson, Amy Butler, and Lindsay Cain.

Sew Subversive, by Melissa Rannels, Melissa Alvarado, and Hope Meng



This sewing book from the owners of San Francisco's Stitch Lounge is perfect for the DIY fashionista-in-training, covering everything from which side of the fabric faces out (the party side, naturally -- the business side hides all your boring seams and hems) to how to set up your sewing space and troubleshoot your stubborn tension issues. The emphasis here is on restyling your boring or too-big clothes into something super-personalized and cool, with plenty of advice and fun suggestions along the way, and lots of illustrations and photos to keep it easy.

Melissa, Melissa and Hope say: Our book is really a manifestation of what we've done with our business, Stitch Lounge: we teach curious creatives how to make their own fashion using some basic sewing techniques. When writing the book, we drew from actual experiences we had while learning, or that we've observed in our students. For instance, we see a lot of students get stuck when trying to remember how to load the bobbin into the sewing machine; we include a well-illustrated section in our book on the right way to do that. We also framed the lessons around real-life experiences like getting to work and having a button pop off! We work through the whole scenario from locking the bathroom stall to using a safety pin as a spacer to make sure you can get the button closed again. The language not only tells a story that readers can relate to, but it teaches the reader a useful skill as well.



photo by Matthew Carden

Their favorite project: Not to sound too much like our moms, but we love all the projects for different reasons! For simplicity/ease, we love the leg warmer and tie wrist cuff projects. At Stitch Lounge, we have seen many potential new DIYers/seamsters completely intimidated by all the knobs and buttons and fancy sewing terms involved in traditional sewing. These two projects are ultra-easy yet ultra-fashionable ways of getting your feet wet in the vast world of clothing/accessory construction. For creativity, we love the pillowcase dress. We heart vintage prints and fabrics, and this project is a great way to incorporate a vintage look for less. Finally, for reuse, we love the sweater scarf project. It's a great way to reinvent those old sweaters sitting unworn in the back of your closet!

My favorite project: I love the Cut It Out! shirt with asymmetrical stylized topstitched leaves--a nice update to a plain old t-shirt incorporating plenty of cool negative space.


Craftivity, by Tsia Carson



Tsia Carson, founding editor of Supernaturale.com, has gathered an array of 40 projects from contributors of all stripes. When I say array, I certainly mean it: they range from hand-knitting a hammock to creating graffiti using woodland moss as a medium, with plenty of other intriguing alt-housewares, accessories, and gifts along the way. The book is also unsurprisingly gorgeous in look and feel, reflecting Tsia's background as a designer and maker extraordinaire.

Tsia says: There was so much madness in putting together this book because of all the contributors involved -- some quite far flung. And I guess I am so proud that the book is so close to the original vision of a large multi-craft look at alt-DIY -- rather than a single craft book. My favorite memories are that we had a series of craft-ons where many of these projects were tested and made for the book. The NY chapter of the Church of Craft came out in full effect along with many of the book contributors. We spent warm early fall days last year in the backyard eating and hanging out and making stuff. There are some nice photos in the back of the book of this.



Her favorite project: Gosh, there are so many projects I love in this book. It is so hard to choose! There are a few I am feeling currently because of the cooler fall weather. One of my favorites is the moth embroidered sweater by Jennifer Kabat. In this project you take a beloved sweater eaten by pesky moths and embroider the holes with a buttonhole stitch in a contrasting thread, thereby stablizing the hole and making a beautiful pattern across the sweater. But then I love Scott Bodenner's Chandy which is on the cover, Lana Le's Pom Pom rug and Jenny Hart's embroidered screen door... There are also many "showcases" through out the book which just show some genius project that you might not want to do yourself. These are all jaw-droppers, and two of my favorites are Jesse Alexander's ocean marbelized paper and Madelon Galland's upholstered tree stumps... but I could go on and on and on.

My favorite project: I especially like Annette Kesterson's sleek Button Cuff, which she aptly describes as "simple and wholesome but also elegant."


Sublime Stitching, by Jenny Hart



Sublime Stitcher Jenny Hart has put together hundreds of new embroidery patterns in this charming book, and extra-nice touches like a lie-flat spiral binding and neat little inside-cover pockets for your patterns are the icing on the cupcake. Jenny demystifies the techniques and stitches of embroidery with humor and energy, while the inspiring photographs of her work give you all kinds of ideas for getting started -- stitching guitars on ties? Well, why not?

Jenny says: This book was basically an answer to the demand for more, more, MORE! People wanted more patterns. And since the Stitch-It Kit has been such a huge success, we decided to make this a companion book to that- expanding the instructions, doing all new projects and of course, new patterns! There are over 90, so I hope that will hold people for a while. I had to figure out how many designs I'd have to create a day to meet the deadline (three a day).

I love working on the projects and combining the designs in such a way that is meant to inspire the reader. They are free to use the patterns just as they are, but I designed them really to be a starting point for their own creativity. I had fun stitching up the bag in the front of the book, with the Scottie dogs. I combined a cross-stitch with a hidden stitch along the top edge in black and white, which is so simple, but not usually done. I hope the reader will notice details like that and see the possibilities.



Her favorite project: I think my favorite is the baby blanket that says "Shhhh." The patterns in this book are a little more traditional offerings, but I like that even in that realm you can do something very sweet and unexpected. I've never seen a baby blanket that reads "Shhhh" and it seemed like the perfect message to put in embroidery on the edge of the blanket, right under their little nose.

My favorite project: I just adore the pillowcases and sheet set that Jenny embellished with a mix of colorful hanging lanterns -- that's first on my list!


In Stitches, by Amy Butler



Amy Butler, renowned fabric and pattern designer, has created a new collection of "simple and stylish sewing projects" for the home in this beautiful spiral-bound hardback, including both everyday necessities like a CD holder and desktop organizer created out of coordinating fabrics and little luxuries like a comfortable-chic kimono. Paper patterns for many of the projects are tucked into a neat folder at the front of the book. Her Midwest Modern aesthetic flourishes throughout, and the results are equally inviting and inspiring.

Amy says:The feel of the book is very consistent with how I approach my sewing patterns and when it came to finalizing the content, it was natural for me to organize the projects by lifestyle, living spaces and personal style. It took me seven months to produce In Stitches with the help of some very talented seamstresses in my community. We had an elaborate writing/testing/editing process to get down to the final 25-plus projects. Some of the projects were doozies to test like the Decorative Patchwork Throw, just the measuring, and re-measuring to make sure all of my increments were correct took a great deal of extra time, but well worth the effort! It usually takes me 3-4 months to complete one pattern so to work through 25 projects so quickly sort of revolutionized my pattern development process. I learned so much, it was incredibly rewarding to turn in the final manuscript! I'm so proud of all the work everyone did to contribute to the end results.

One of my favorite qualities of the book is the range of projects, from simple to a bit more complex. The idea to have " something for everyone " at every level of sewing was important to me, and the " voice" or instruction approach had to be easy to follow. I've had a lot of nice comments from folks who have purchased In Stitches but don't sew yet! I can't think of a better compliment.



Her favorite project: I love my Wide Leg Lounge Pants project because the pants are very simple to make, easy to customize and they transition easily from the couch to a dinner party! I have very long legs (I'm 6 feet tall) so being able to make my lounge pants as long as I need to is an extra bonus. The shape of the legs is dramatic and they make me feel quite elegant when I wear them. I also think they make the perfect gift! They make up beautifully in quilting fabrics or flannel.

My favorite project: I think the Big Dot Pillow is just the thing for my living room!


Get Your Sparkle On, by Lindsay Cain



This stylicious jewelry-making primer from the owner of the Femmegems boutiques offers 25 shiny designs for bohemians, party girls, brides, beach babes and rock stars alike. The common thread here is an easy and accessible, but high-fashion, feel, and the book is filled with light-hearted extras like "Great Moments in Bling" and a list of "Rock Songs" (like "Shine on You Crazy Diamond" and "Ruby Tuesday") -- call up your girlfriends up and plan a ladies' night in to string your beads with one hand while pouring the next round of margaritas with the other.

Lindsay says: The book was really driven by the lack of a book like it in its category. No one had broken the mold of a conventional how-to jewelry manual and given it a spirited fashion slant. We included editor interviews, peeks inside real women's jewelry boxes, flea market makeovers, etc. in order to do this and break up the monotony of the expected project-project-project lay out. The "gemstyles" (Park Avenue, Rock Star, Bohemian…) as an organizational approach to the book is what I think makes it such a fun read too, even for someone with no intention of making jewelry! The pop-quiz and timeline are both very humorous – I've gotten a lot of positive response to both of them.



Her favorite project: I love the Tassel Earrings project because it takes a decorative household item which is playful and beautiful but transforms so easily into a feisty pair of earrings. It could be great for an over-the-top New Year's event, or preppy-chic with the simplest outfit and loafers. Either way they are sure to get noticed.

My favorite project: I was instantly drawn to the Chain, Chain, Chain Earrings -- they're a cascading mix of faceted beads in smooth, pretty colors.



Susan Beal just loves craft books!


permalink | comments(3)
October 06: CRAFT magazine on the horizon!
Tuesday October 03rd, 2006 12:56 PM
What's not to love about a magazine that shows you how to knit your own boots and crochet your own robot? Oh, and design your own custom-animated LED shirt, and create your own paint-by-numbers masterpiece while you're at it! The brand-new CRAFT quarterly includes a broad sweep of super cool DIY projects and features, plus insightful columns like Jean Railla's Modern Crafting and Susie Bright's Home Ec. I got to talk to associate editor and craft-tech-style superstar Natalie Zee about the sparkling new Vol. 01 and beyond.



An insert from the CRAFT Vol. 01 cover, plus Natalie at the San Francisco Stitch 'n Pitch game (photo by Jen Greenwood)

What's your art and craft background, Natalie?

I started crafting as a kid, mainly sewing and knitting, which I learned from my mom. Since
my parents both worked, after school I'd go to the Girls Club and I took a machine sewing class and learned most of the basics that I still use today. I was probably about 10 when I made this series of puffy pillows of all the letters in my name. I was so frustrated because I had the longest name and had to sew 7 pillows, while the gal named Lisa made her pillows super fast. I also used to make and sew Barbie clothes out of my mom's old dresses. I still sew, but these days my main love is knitting, and I have about 5 or 6 knitting projects going on right now. I also do needlepoint and embroidery. Pretty much all crafts interest me and I love learning new things.

What are some of the solo projects you've worked on as a designer or writer?

I started my own personal blog last summer called Coquette. It's really a labor of love and merges all the things I'm into: mostly fashion, technology, and crafts. I love how these groups are now intersecting. It's been fun because through my blog, I've met so many new and interesting women who are blogging, and it's exciting to see this new blogging world emerge.

How did you get into magazine work?

My background is in interactive design and technology. I've written 4 books, 3 of them web design focused. O'Reilly, who publishes both CRAFT and MAKE magazines, also publishes web design titles and they're famous for their technology/programming books. It's a natural fit for my background to incorporate crafts, design/technology, and writing. In addition to writing for the magazine and CRAFT blog, I also design and help maintain the websites makezine.com and craftzine.com.

What are you most excited about in the first issue of CRAFT?

Can I say EVERYTHING? ;) I think for all of us, it's fun to finally see all the work we've done this year finally in print. It's been such a team effort. What's great about now is that we've got all the initial ramp-up stuff done, such as the magazine branding, layout, and website design so now we can really concentrate on finding great content to share. It's really all about sharing in our crafts community.



a sneak peek at a few Vol. 01 project highlights

Who are some of your favorite craft artists or sites?

I feel lucky in this job because I get to meet such amazing crafters all the time. It's hard to have favorites, really, but the ones I adore have helped define this new kind of craft movement. I have admired these ladies for so long before I even started working in this field and crafters like Jenny Hart, Jill Bliss, Leah Kramer, Alicia Paulson, and Megan of Not Martha have been so helpful to me now that I'm a part of it!

Who or what inspires you most?

I love vintage and my favorite eras are the '30s/'40s and '50s/'60s. Vintage fabrics, books, magazines, cards -- I love them all. I'm probably the biggest magazine addict. I absolutely love Japanese craft books and all things Japan. I told Carla (CRAFT's Editor-in-Chief) that if I went to Japan I'd probably explode because of all the crafts, fashion, and technology -- all in one place. I'm also really inspired by my grandmother, who was a fashion designer in Shanghai in the 1930s and my dad, who is an amazing artist and cartoonist. Even though we live in the same city, he sends me all kinds of funny cartoons he draws.



Natalie's grandmother, Amy Wang

What's next for you and CRAFT?

We are excited now because CRAFT is almost out on the newsstands, and this fall, we'll be spreading the word about the new magazine. We will be at a bunch of craft fairs, such as Bazaar Bizarre, Felt Club, the SF Craft Mafia Holiday Sale, and more. Check craftzine.com for more up-to-date info. We also just started work on our next issue, Vol. 02, which is called "Creative Copies." And for me personally, I'm getting married in a week! So a lot is going on!



CRAFT at Renegade Chicago in September

How can people subscribe or find the magazine?

It's very easy. You can subscribe to CRAFT by going to craftzine.com and clicking "subscribe" in the top navigation. Vol. 01 is even available on Amazon.com now! CRAFT will also be on newsstands on Oct 17th. Some places you can find it include your local Borders or Barnes and Nobles, select Michaels craft stores, and JoAnn Fabrics.

----------------------
Susan Beal is really excited that she's writing for CRAFT's issues 02 and 03!


permalink | comments(7)
September 2006: Stitch-O-Rama!
Sunday September 17th, 2006 10:01 PM
New Embroidery: Not Your Grandma's Doily, a show of unconventional and modern feminist needlework, opens at Contemporary Crafts Museum in Portland, Oregon on September 22. Twenty-one artists will exhibit their work, and one community-created piece will be spotlighted in the North Window: Stitch-O-Rama, a vintage tablecloth that's made the rounds at crafty events all summer long, giving dozens of Portlanders a chance to embroider and embellish it with their own designs. I got a chance to talk to Namita Gupta Wiggers, one of the curators of the show, Jenny Hart, one of the featured artists, and Jen Neitzel of DIY Lounge, who's teaching embroidery and handcraft workshops all fall to celebrate the exhibit.

Stitch-O-Rama



the tablecloth at Crafty Wonderland in July

Tell me about the tablecloth and its journey around the city!

Jen Neitzel: DIY Lounge and many other organizations like Crafty Wonderland, Church of Craft and PNCA have all hosted an embroidery session, where people from the community were invited to embroider on a tablecloth, which moved around town to various locations.


Diane Gilleland of Church of Craft embroidering a sugar bowl

Jen Neitzel's flower and vine embroidery

Namita Gupta Wiggers: Some marvelous things happened along the way. Unfinished pieces in one session became transformed in others – such as a half-embroidered lobster that was put into a pot by another stitcher.



the lobster (before stitcher #2's contribution)

At Art in the Pearl, we had an entire table full of elementary-school boys stitching on the tablecloth. At other places, the cloth had people from a range of generations and experiences working, creating the kind of exchange of ideas and experience we hoped would happen.

I also took the tablecloth camping with my family. We spend a week each year camping with 70-plus families who have all adopted through Holt International. During this year's campout, I set up the tablecloth and people spent several hours each day stitching on the cloth. The conversations that arose were fantastic, and so many teenage boys and girls stopped to try their hand at embroidering.

Importantly, we asked our needleworkers to sign a book that will be on view in the museum. Recognizing all participants who chose to sign the book was a critical element of the work, as some feminist works from past decades do not acknowledge those who helped create the finished piece.

New Embroidery: Not Your Grandma's Doily



Andrea Vander Kooij
Cliff's Tattoos, 2004, appliqué and embroidery on vintage bed linens, 11.5" × 14", Collection of the artist, Collection of Brandy Cannady, Photo: Kate Fellerath


How did the idea to create an embroidery show that references feminism and the new domesticity come about?

Namita: Manya Shapiro and Annin Barrett started the project just over two years ago after noticing an increase in the use of vintage and found linens in artwork shown in galleries. The imagery used by these younger artists is humorous, ironic – even subversive.

Associations with feminism are inevitable given that the materials being used are domestic textiles. But the fascinating thing about this exhibition, however, is how few of the artists feel engage by feminism. In interviews, many acknowledged that the struggles of feminism and of women who were limited in means of visual expression in past decades is important, but the links to this past are not necessarily what is driving the concept behind the work. It is clear that artists working today are in a different place--professionally as artists, and culturally as women. This exhibition brings it out through a handcraft that links the past and present, art and craft.

The artists see feminism as something that opened doors, but the use of embroidery as a media is driven more by how it executes their concepts and ideas than a political statement in using these materials or this media.



Susie Brandt
Darned Blanket (detail), 1993-95, found embroideries, thread, machine stitched, 75" x 86", Photo: Tom Grow


What do you find exciting about this genre of modern craft?

Namita: This is a way for us to tell the story of how utilitarian textiles are being redefined through the hands of artists today. It shows a shift in imagery. The most recent work has a good deal of figurative imagery– but the figures are composed with heavy outlines that come more from appropriated styles and imagery from comics, scientific manuals and book illustrations than from "high art."

Another critical angle to consider is the way in which utilitarian objects change meaning and value over time. Some artists specifically choose objects that are laden with nostalgia – family heirlooms, for example. These materials are handled quite differently than those found in thrift stores or the artists' own closets, which are fragments or leftovers that have little to no value for use, but can be used as materials for art making.



Orly Cogan
Busy Barbie, 2004, hand-stitched embroidery and paint on vintage tablecloth, 50" × 50", Image courtesy of the artist

The objects that are the "raw" materials in this exhibition were once embellished by anonymous women who used the materials to convey a particular self-image. Today, artists are using the same embroidered materials to convey a very different self-image, where humor prevails, women sport urban accessories, or the experiences of being a young boy are explored through the same medium.

How does embroidery link traditional handcraft to modern feminism and the new domesticity? Can you describe your piece specifically??

Jenny Hart: I think traditional handcrafts are being linked to modern feminism because feminist movement of the 60's had to necessarily distance itself from those types of activities, which, creative as they may be, were viewed as domestic activities. Our generation (third-wave feminists) found itself in a place where these activities have now been absent for so long, we can re-embrace them and celebrate them.



Jenny Hart, This Work Never Ends, 2003, hand-stitched embroidery on vintage linen, 11 x 11 inches, collection of the artist

My piece ("This Work Never Ends") was never really meant for exhibition. I made it for myself and it hung on the back of the armchair that I sit in when embroidering. It was a little piece about how I felt about the stresses of my life, and also the enduring quality of embroidery. That it will go on forever, and so will my desire to create it.

What is DIY Lounge doing in conjunction with the show?

Jen Neitzel: DIY Lounge is collaborating with CCMG by offering embroidery lessons as part of the larger installation. Heidi Steeves and I will be teaching embroidery on vintage napkins and fabric scraps as a means to make the art exhibit interactive and involve the community. More information on workshops is here.

- - - - - - - - - - - - - - - - - - - - - - - - - - - - - - - - - - - - -

Susan Beal loves embroidery and the Contemporary Crafts Museum--she married Andrew Dickson there in the Church of Craft last year! Here is the little cupcake she contributed to the Stitch-O-Rama tablecloth (at lightning speed, while vending at Crafty Wonderland):


permalink | comments(4)
August 2006: Indie Craft Documentary!
Thursday August 03rd, 2006 11:03 PM
Faythe Levine and Micaela O'Herlihy are filming crafters at fairs, shows, and events coast to coast for their Indie Craft Documentary project. I crossed paths with them when I was selling at Renegade Craft Fair Brooklyn with PDX Super Crafty and got to do a quick interview about our book and everything else we've been up to lately.




Faythe was kind enough to return the favor and let me interview her recently, and here's what she had to say about her film and the state of the craft in 2006!

What's your art, craft and film background, Faythe?

Some of my projects are:

Flying Fish Design- http://flyingfishgallery.com
Paper Boat Boutique & Gallery- http://paperboatboutique.com
Art vs. Craft- http://artvscraft.com
Indie Craft Documentary- http://indiecraftdocumentary.com

I am also a fine artist working predominantly with felt & sequins in many shapes and forms as well as doing mixed-media painting and collage on found smashed cans.

What gave you the idea to document the indie craft community on film? Have you and Micaela worked together before?


While traveling around the country selling my goods under Flying Fish Design I became overwhelmed with the extent of the craft community nationally. Of course, a lot of the community is on-line and I found there there was a lack of off-line documentation. My motivations is stemmed from the same roots of why I opened my boutique & gallery and started Art vs. Craft, there are these feelings of admiration and inspiration for the people who are creating this huge out-flow of work while supporting people. It really comes down to community and people--there is so much out there that is "mega" and "mass" and any glimpse of true people-to-people creative interaction to me is a glimmer of hope that we can make this world livable. Whoa, that was a little out there, but seriously, I am motivated by the people who are doing things that I find healthy and inspiring.

I also had made invaluable connections with many many show organizers, designers and artists which has allowed me to easily contact the folks I am interested in interviewing.

The more I began to think about the craft community and art and design, the more I found the lines blurring between them all. Another interesting point is that the community is mostly women, and there are very few art movements that I know of that are made up of a majority of women--I think that is incredible.

Micaela and I are what I would call "creative collaborators." This is actually our first project working together, although at my previous gallery (Flying Fish Gallery--pre-Flying Fish Design) we did a show of her paintings. We are working on another film this summer that is an experimental film shot on 16mm all underwater called "The Snorkeler." I am helping produce and doing some prop work. We do have future plans and projects too.

Where/who have you filmed so far?

Atlanta, GA: we shot at the Indie Craft Experience, Young Blood Gallery & Boutique, Beehive Collective. We also got to interview Garth from extreemcraft.com.

New York/Brooklyn: Renegade Craft Fair, Cog & Pearl, Sodafine, interviewed the ladies who edit Adorn Magazine, interviewed Dennis Stevens of redefiningcraft.com.

Milwaukee, WI:. We shot at my show Art vs. Craft, and we will also be doing interviews with the ladies of fasten clothing co-op.

Minneapolis/St. Paul: We shot at the Craftstravaganza.

Chicago: We shot at Depart-ment.

Check out the blog for more details and pictures.

What are your future travel/film plans for the movie?

We will be traveling to San Francisco, LA, Austin, Seattle, Portland and perhaps a few more cities.

What do you think is exciting about the indie craft community?

I probably hit on some of this previously but I can not stress enough how important I think it is to have a supportive art community that is approachable and accessible, and I think that the Indie Craft Community is both of these things.

I love seeing the work that flows out of people's minds and I love the friends I've made.

What do you think will happen next, or in the future, with indie crafting?

This is a very pensive and sensitive topic that is very important at this point in the community. Mainstream marking has already co opted the visual aspect of handmade and now major corporations are moving in on the indie craft fairs. I hope that people stand firm and keep moving forward with the ethics that started it all-- supporting independent artists, doing it yourself and not allowing mega corporations to take our community over. With that said, I understand the need to make a living and having the opportunity of the exposure that a large company offers can be very tempting. I am not sure where the community is going or if it can continue in the shape and form it has taken over the past few years--all I know is that I am thankful that I got to experience it first hand and I am working on giving back all that I got from it while working on this film.

How can people find out more info, or support the project?

First off, I would like to mention that at this point in production we are totally self-financing the film. So every amount of help makes a huge huge difference and adds up quickly to our growing costs (mostly travel expenses).

There are a number of ways folks can support the project. People can donate handmade items to our etsy shop (details under "support" on our site) or buy items from our etsy shop-- there are also pins, totes and t-shirts there!!

Check out these sites for more info:
http://indiecraftdocumentary.com
http://indiecraftdocumentary.blogspot.com
http://myspace.com/indiecraftdocumentary
http://indiecraftmovie.etsy.com

We are also taking cash donations via paypal at indiecraftdocumentary@gmail.com or you can make a check out to Faythe Levine and send it to indie craft documentary, P.O. Box 134, Milwaukee, WI 53201-0134.

- - - - - - - - - - - - - - - - - - - - - - - - - - - - - -

Susan Beal loves movies, crafting, and especially movies about crafting!


permalink | comments(0)
July 2006: Summer Crafting Party!
Saturday July 01st, 2006 02:00 PM
Summer is the perfect time of year to throw a crafty party! Invite a few friends to bring their projects-in-progress over to your backyard (or meet at a neighborhood park), and serve something cool and delicious, picnic-style.

Here are a few of my favorite drink recipes and some suggestions for cool summer-friendly stuff to make. Just don't forget the sunscreen…



photo by Charity of Pancakes and Noodles

Cold Drinks!

lavender lemonade--two ways!

I love this lemonade--it's so summery and delicious, and such a pretty color. You can also make it with limes instead of lemons, and make it sweeter or tangier to taste. Version #1 is homemade from scratch, version #2 is a quick way to doctor up the store-bought stuff.

1-make it from scratch

You'll need:
6 cups water
1 1/2 cups sugar (or to taste)
12-16 stalks of fresh lavender, with blossoms
2 cups of lemon juice
ice

1. Bring the sugar and 3 cups of the water to a boil, stirring until all the sugar dissolves. Add the lavender and let it simmer for a few minutes. Remove the mixture from the heat and cover it. Let it sit for a few hours until it's cool, then strain out the lavender stalks. (You can do this step ahead of time and set it aside in the refrigerator.)

2. When you're ready to serve the lemonade, add the rest of the water and the lemon juice. Mix it well and serve in a pitcher with plenty of ice.

2-doctor store-bought lemonade

You'll need:

1 cup water
a little sugar (to taste)
24 lavender stalks with blossoms
1 gallon lemonade
a little fresh lemon juice
ice

1. Bring a cup of water with a little sugar in it to a boil. Add the lavender, stirring so that all the blooms are submerged. Let it simmer for a few minutes and then take it off the heat and cover it. Set it aside until it cools. Strain out the lavender stalks.

2. Mix the lavender-syrup (and a little fresh lemon juice, if you have any) into the lemonade, stirring well. Serve it in a pitcher with plenty of ice.

pineapple mimosas

All you'll need is chilled champagne and pineapple juice!

Fill each glass about 2/3 full with champagne. Add pineapple juice to taste.

Or make it as a punch: pour a bottle of champagne into a large bowl, add pineapple juice to your liking, and garnish with fresh or frozen berries. Another lovely addition is a little pomegranate juice—it gives gorgeous color, too.

Craft Projects!

Skip the hot, heavy, wintery stuff and try something portable. Instead of stirring hot melt-and-pour soap or lip balms on the stove, how about mixing up

•a cool papaya face mask, or a beach sand scrub for your feet?

•some custom-scented dusting powder?


Instead of plugging away at the gorgeous (but thick and woolly) sweater you started months ago, how about trying…

•teeny, super-stylish knitting for Blythe dolls?

•crocheting your own sandals? (note: the third icon on the page offers a free PDF download of the pattern)


And instead of dragging out your trusty sewing machine, try these lightweight stitching projects—everything you'll need fits in a tote bag or purse!

•embroidery, like Jenny Hart's deliciously cool $3 sushi patterns?

•cross-stitch, like Julie Jackson's new $5 pattern-only sets?

- - - - - - - - - - - - - - - - - - - - - - - - - - - - - - - - - - - - -

Susan Beal loves summer as long as she has plenty of SPF 30 on hand.





permalink | comments(0)
June 2006: Life on a Crafty Magazine!
Thursday June 01st, 2006 07:33 PM
New York craftista Linda Permann has turned her love of sewing and crochet into a pretty amazing day job--a career in magazine publishing! As the founding craft editor of new DIY quarterly mag Adorn, she dreams up features, designs and makes projects, posts blog entries, and scouts out new designers to cover. I recently got the chance to chat with her about how she got started and what's coming up for her brand-new magazine (the first issue will be out in mid-June).




What's your art and craft background?
I have been creative since as early as I can remember, from drawing on the underside of our coffee table (mom wasn't happy when she found out 15 years later) to making Halloween costumes and doll clothes as a kid.




I think part of it was just learning to make do with what I had--I grew up in a large family and therefore received a ton of hand-me-downs. I needed a way to make things mine. Also, my grandmother sewed every single dress I had from infancy to 8th grade, so I loved trips to the fabric store from a very young age—I could pick a fabric and a pattern, and have it made to fit me. Oh, how I would kill to have someone do that for me now! I started taking art classes in school, and was quite good at it, so I majored in drawing and painting. Once I moved to New York, I started to get back into crafts. There was a space problem (who can paint in a tiny bedroom?) and a freezing problem (cold weather does not thrill Texans!), so I got right into crocheting and everything else.

What are some of the solo projects you've worked on as a designer and writer?
I like to dabble in everything, but my first craft love was crochet--I love how forgiving it can be and how modular it is. I designed accessories for my website, lindamade.com, which was a lot of fun.
I also sent some patterns in to Debbie Stoller for her Happy Hooker book, and they made it in--so I was thrilled.




I also wrote an essay a few months ago for a crochet anthology which should be coming out later this year.

How did you get into magazine work?
Dumb luck! It all makes sense backwards, but basically, I was working an administrative job at Newsweek and running my own website to sell my crochet wares in my spare time. A couple of friends emailed me a posting for my first job at Soho Publishing. Initially I ignored them because I wasn't looking for a job and I didn't think I was qualified. But when it was reposted a month later—and another friend emailed me--I figured it was my destiny calling, and I answered.

What are you most excited about in the first issue of Adorn?




I'm really happy with the way the magazine turned out, I think the hardest part was cramming everything in there! I can't wait till we get the first copies in our office. One of my favorite projects was this circle dress, which was inspired by a Calvin Klein runway shot. I loved it because I learned about a cool thing I didn't know existed—spray-on fabric paint--and the technique was actually pretty simple. Plus I just saw the dress in a fashion magazine, listed for $2450, and I could never afford that--but I can swing a few cans of paint.




I also really loved our Folk Fashion story (which is spotlighted on the cover). We featured several different crafts (beading, sewing, painting) so that everyone can make at least one of the projects. I think part of what makes our magazine unique is that we're looking at trends and what's hot now, then giving you a way to make it yours. Unlike traditional fashion mags, we're actually showing you how to get the look, and unlike a lot of craft magazines, you don't necessarily have to have any sewing experience to make the fashion projects.

Who are some of your favorite craft artists or sites?
I have a very big soft spot in my heart for getcrafty. My college neighbor turned me on to it when it was just a splash page, and I have met some of the most interesting, wonderful people through it and all of the things that branched off from it. It's where I learned about everything from making friends to marble magnets. I miss those old days!

One of my favorite crocheters is Prudence Mapstone--she's this wonderful freeformer who makes elaborate wearable pieces. I also love the work of Tricia Royal, who I met, someway or another, through glitter. She has a great sense of style and is a fantastic knitter and crocheter, and not afraid of color. Everything she touches turns to gold. And I'm a big fan of The Sampler, which is a great swap-meet-by-mail run by Marie Kare. I submitted some samples when I was doing lindamade.com, and it was so fun to receive the surprises. I think it's so awesome that all of these independent crafters are selling their wares online. It makes it so easy to buy handmade, and it's just great to see everyone's unique spin on the same materials.

Who or what inspires you most?
Everything! There's such an influx of visual stimuli in New York City from what people are wearing, to billboards, to the way layers of paint peel off an old building. Raw materials are also really inspiring. We have this great craft closet at work with all of our supplies and if I ever need some inspiration I just stand in there and look at everything until an idea hits me. I particularly love yarn, buttons, fabric and scrapbooking notions.

As for the who part of this question, I'll tell you about two people I'm lucky to have in my life. One is my grandma. She is such a crafty lady in every sense of the word. She's 92 and she still cuts up her dishwashing gloves to make rubber bands and alters her clothing when she needs to. She was the one who tried to teach me to sew (I was stubborn!) and handed me a crochet hook for the first time. Whenever I go over there she pawns off her old buttons and fabric stash on me. Hooray!




My lifestyle inspiration comes from my friend Mark Peavy, who happened to be my high school art teacher. Everything from his taste in modern furniture to his humor to his wonderful family inspires me. You can live an artful life and love what you do. It is possible!

What's next for you and for Adorn?
Right now we're planning on a late fall issue. There are so many great ideas for crafts, so many up and coming designers, and so many cool new craft supplies. I wake up in the middle of the night with new ideas, so I hope we have many future issues where we can show them off. We also have a blog and a website, and I hope to hear a lot more from our readers about what they're up to, what they want to see, etc. We can't wait to mingle at Renegade. As for me, I'm working on a couple small projects for some books, and other than just taking life as it comes.

How can people subscribe or find the magazine?
Check out our website at adornmag.com. Stop by the blog and say hi, too! The first issue will be sold at major craft stores (JoAnn, Hancock Fabrics, Michaels) and bookstores (Barnes and Noble, Borders, Books A Million, etc) nationwide.

Susan Beal is an avid craft magazine fan whose favorites include Martha Stewart Living, Cutting Edge, BUST, Venus, Blueprint, ReadyMade, and now Adorn.


permalink | comments(4)
May 2006: Organize a Craft Fair!
Monday May 01st, 2006 07:03 PM
Does your city have a cool craft fair--or just desperately need one? Spring is a great time to get started selling your wares, or launch a brand-new sale! I talked to Torie and Cathy of Portland's Crafty Wonderland, which just premiered in April, and Jenny and Hazel of LA's Felt Club, which kicks off in May. Read on for some great advice on organizing your own super-cool event, or just selling your work for the first time. I've also included a list of other craft sales and events going on nationwide--please comment with your favorites, too!

What gave you the idea to organize a craft fair? How did you get started?

Cathy: We've sold our work at so many events ourselves that it seemed kind of natural to take all that we had learned and try to create the craft fair of our dreams. Most of the fairs in Portland are either seasonal (around the holidays) or outside during the summer. Our goal was to provide a regular, indoor venue where all the great artists and crafters could sell their work--kind of a once-a-month DIY Superstore!




Torie: Portland is full of creative people and the community is so supportive of the arts that we wanted to help play matchmaker by bringing together those who create and those who seek out cool handmade items. Crafty Wonderland started as an idea we'd thrown around with PDX Super Crafty for quite some time. It's hard to coordinate all four of our schedules and Cathy and I were really excited about the sale so we just decided to go for it!

We knew right away we wanted to have it at Doug Fir Lounge so we pitched the idea to their booking agent, then set about the task of finding a name. Ryan Berkley created our graphics and Cathy's husband, Greg, built our website. Once we had a name, location, and website we were ready to put the call out to artists!

Jenny: I had fiddled with the concept of having a "Felt Club"—some kind of underground meeting a la Fight Club, but with less punching and more bedazzling. I nabbed the FeltClub.com URL intending to create a companion online magazine and recruit crafty participants with it, but never did. I started my own business, Sew Darn Cute, and just didn't have the time/support/resources to pursue it further. Then a few years back, I was introduced to the organizers from Bazaar Bizarre and ended up helping them launch the first-ever Los Angeles event--I did promotions, volunteer coordinating, and art direction.

I left my day job last year to focus on my business, and found myself wishing there were more year-round fairs catering to my kind of crowd. I couldn't find much that interested me and figured others might feel the same way. I like the smaller, mellow feel of Farmer's Markets, but too often, I feel like crafts get wedged into these shows as an afterthought, and vendors don't get highlighted the way they should. Then the folks from Meltdown Comics started talking to me about possibly holding some kind of crafty event there, and would I be interested? They basically ignited that Felt Club spark in me again— so we joined up and they now serve as our venue and main sponsor. My partner-in-crime is Hazel, Meltdown's gallery curator. She's crafty as hell and has a million ideas, PLUS the follow-through to make them happen.




Hazel: I love to organize and coordinate events, so, Gaston, the co-owner of Meltdown, told me that I should start a craft fair. I started thinking about who and what I needed in order to get this off the ground. I went to the person who I thought would be a dream partner, Jenny! I thought, if this thing is going to be any good, I have to have her involved. And much to my amazement, she had a dormant idea that was pretty much the same; only she needed a vehicle and support to make it happen, which is where I/Meltdown came in. So that's how Felt Club was finally activated.

What are some of your favorite ways to promote a sale? Any advice on doing your own publicity?

Torie: A cheap and easy way to publicize an event is to send out a notice to your mailing list and ask people to pass the info along to anyone they know who might be interested. Also, send press releases to the local media and try to find an angle that makes your event more newsworthy.

Cathy: You don't need to spend a ton of money on expensive ads--come up with some fun, eye-catching graphics and get a bunch of postcards and posters made. We get 5000 double-sided color postcards for $150-$200 from Phoenix Media. Put stacks of cards all over town: in coffee shops, cafes, boutiques, and craft supply and knitting stores. Plaster them everywhere you go!

Portland has several websites that list cool happenings around town, like Ultra PDX and Portland Picks. You can also list your event on local crafty forums, craigslist.org and the online classifieds for your local papers (some are free!). Put a promo table out near the entrance to the sale with flyers for future shows, business cards from vendors and a book where folks can sign up to be on the mailing list. We got 60 new people on our list at the first show!

Jenny: We're lucky because our event happens at a retail venue that already gets a ton of daily visitors, so our promo postcards get right into the hands of all those people. Everyone working at Meltdown is really excited about the event, and that word-of-mouth is invaluable. Same goes for our vendors, who tell their own mailing lists about us.

Start planning as far in advance as possible, remembering that local print media will need several weeks' notice in order to fit you into their listings. It goes without saying that your event needs a website, so make it as attractive as you can. It's also a nice idea to have downloads available, so vendors or fellow craft enthusiasts can put a banner on their website, print out flyers and hang them up, etc. Having some kind of blog/news page on your site is another good way to keep people in the loop.

Hazel: My favorite way to promote a sale is word of mouth. I really feel that this is the way that Felt Club grew sooo fast! Even though we had press kits, an amazing website and postcards, we were so excited that we got everyone we knew excited, and so the buzz began. I think that the best way to promote a sale is to believe in your sale, make something you're proud of and are as much in love with as we are with Felt Club. This is where the publicity advice comes in... Do what Jenny says and did! Trust me!! Does it sound like a lot of work? YES! Is it easy? NO! Is it free? NO! Can you make it happen even if you're poor? YES! ABSOLUTELY! Well... as long as you're crafty!

How did you find good vendors? Any suggestions for finding the perfect venue?

Cathy: We just put the word out to all the artists and crafters we knew and told them to pass it on. We also got help from Meredith of Handmade Bazaar (a twice-yearly handmade sale here in PDX) who sent our call for vendors out to her mailing list.



the first-ever Crafty Wonderland

Torie: We really wanted to have a mix of artists and crafters with a range of media and price points, which is why Crafty Wonderland is a juried event. With the number of applications we've received so far, we've been able to rotate the vendors so each month is different from the last. To get the word out, we emailed a call for artists to people we know with a link to our website. The ladies of I Heart Rummage also sent a notice to their list of vendors. We posted the call on crafty websites like getcrafty.com, craftster.org, theswitchboards.com, and supernaturale.com.

Look for a venue in a location that is easy for people to get to, especially on public transportation. Doug Fir was so appealing to us because it's in a central part of Portland, the area has ample street parking, and people can have lunch upstairs and then head downstairs to shop.

Jenny: I definitely had a list of potential vendors in mind when we started planning, people I either knew peripherally from the craft world or had "met" online. But a good number of our vendors are people we've never met, who applied out of the blue and ended up knocking our socks off. It's especially important for us to focus on quality and diversity, since this is a "mini" craft fair. We've only got 22 spots available per month, so we can't allow, say, 22 jewelry vendors in, otherwise it becomes "The Jewelry Club." It's important to mix things up and keep it fresh, which I hope the applicants can appreciate. However, since Felt Club is monthly, you can always apply again next month.

As far as finding a venue, be creative! Meltdown came to me with the idea of a craft-related gallery show inside the store, but it morphed into Hazel and I taking over the back parking lot with as many tables as we could fit. Meltdown offers collectibles, clothes, toys, etc. and it's a hub of the alternative arts scene in Hollywood, so there's definitely crossover potential there. Maybe there's a place like that near you. Whatever your plans, don't rule anything or anyplace out. Depending on the size of your event, you'll want to call up a variety of places, from concert halls and bars/clubs to high schools, VFW halls, parks and rec centers.

Hazel: Mostly, we tried to get a hold of and invite people that we knew and whose crafts we liked. I've met tons of great people in the arts scene, because I make and do so many things outside of craft fairs. I've been involved in the arts scene for a long time, and worked at Giant Robot which is where I met people like Susie Ghahremani and Saelee Oh.

What kind of cool extras did you come up with to set your sale apart from other events?

Torie: Crafting plays such an important role in our lives, and we thought it would be wonderful to offer visitors at Crafty Wonderland a chance to get crafty at a DIY table-- they can take a break from shopping, sit down, chat with people, and learn to make something new to take home. Jen of DIY Lounge and Diane of Church of Craft take turns running things, which is a great tie-in for both of their organizations.



shrine-making with Diane and Jen

Cathy: It was important to us that the sale not just be a retail event. We wanted it to be fun and interactive. We've held a lot of workshop-style events with the release of our book, Super Crafty, and it's so much fun to teach folks something new and see how they take a basic project idea and make it their own. Our first event featured shrine-making, and next month will be felt flowers for Mother's Day.

Jenny: We came up with the idea to have a bake sale because one of our pals kept saying she wanted to help out and mentioned that she had a bunch of cookie recipes she wanted to try, and that she thought she could donate them to the Felt Club cause. We'd planned on having a Felt Club info table anyway, so it seemed like a perfect place to put 'em. Our table rates are really low, so we're pursuing ways to raise more money to offset our costs and help fund promotional efforts and future events. Some of the vendors also offered to donate cupcakes and cookies for the sale.

Overall, the Felt Club Bake Shoppe will have treats plus we'll be offering Felt Club 1" button sets, dispensing event info, and handing out copies of BUST magazine. BUST recently signed on as a sponsor, which is a big boost for us. It's nice to have the exposure and even nicer to have something fun to offer our visitors. We see this table as a meet-and-greet/networking kind of area and are really looking forward to it. So many people are pulling for our little event to succeed, and we're so thankful to have their help.


Check out the next Crafty Wonderland on Sunday, May 14 from 11-4 (and every second Sunday of the month). And don't miss the first-ever Felt Club on Saturday, May 13 from 11-6 (and every second Saturday of the month).

Some other great ongoing craft sales coast-to-coast include:

Renegade Craft Fair (Brooklyn and Chicago)
Bazaar Bizarre (Boston, LA, Cleveland, and the Bay Area)
Handmade Bazaar (Portland)
Stitch (Austin)
Craftacular (Brooklyn)
I Heart Rummage (Seattle)
Urban Craft Uprising (Seattle)
Feria Urbana (San Francisco)

For more tips on selling your stuff, check out our online business resources for advice on doing craft sales, approaching stores, marketing, and more!


Susan Beal is the only crafter lucky enough to get the chance to sell at both Crafty Wonderland and Felt Club (so far)!




permalink | comments(5)
April 2006: Craft Books Galore!
Sunday April 02nd, 2006 10:50 PM
If you've stopped by your neighborhood bookstore lately, you've probably spotted a shelf full of cool new craft books covering everything from t-shirt surgery and naughty needlework to cleverly repurposing everyday objects with glue guns, power tools, and everything in between. Spring is the perfect time to get crafty with inspiring titles like these!




I've picked six of my favorites to spotlight, and had a chance to ask their authors about their favorite projects and what writing their books was like—thank you so much to Kathy Cano Murillo, Sarah Sockit, Julie Jackson, Grace Hawthorne, Jessica Vitkus, and Megan Nicolay.

Art de la Soul, by Kathy Cano Murillo



This charming collection of lively, lovely craft projects is punctuated by Kathy's candid and funny "Diary of a Crafty Chica" entries--covering everything from an ill-advised attempt at spray-painting a cute new pair of shoes to her grandmother saving her from too-tight bridesmaid dress hell at the last minute. Each themed chapter includes three open-ended, wonderfully customizable DIY projects: "Las Luminarias" has delightful candles and tiny lanterns, for example, while "Patio Pleasures" fancies up any yard with ideas like a hand-painted fence.

Kathy says: I wrote La Casa Loca back in 2003 and got such a huge response from it, not only from Latinas, but also from crafters who love Mexican culture. The colors and pop art are so addictive! So it was my goal to do another book, bigger and better, with a larger publisher. I loved that my husband Patrick did all of my illustrations, he really captured the spirit I was looking for. I knew I didn't want this to just be a craft book. I wanted uplifting features, funky projects, and fab illustrations. My favorite aspect is adding the "Diary of a Crafty Chica" features. These are first person stories about my adventures in crafting. Some are embarrassing, others sentimental, but they succeed in proving that art really does come with drama! And I know that the Latino crafter is sorely under represented in the crafts industry so this is my shout-out to my peeps!



Her favorite project: I like the "Latin Power Jean Jacket" project. I love functional art and you can totally turn an old jeans jacket and fabric scraps into something spectacular! I used the front of an old t-shirt as the focal point and random pieces of scrap fabric and trims. You can hand-sew it or use flexible fabric glue from Duncan Crafts (I discovered this after I wrote the book!). The jacket makes such a statement and it was so inexpensive to make!

My favorite project: I was instantly drawn to the "Super Santitos Fabric Prayer Book"... but the "Fantastico Fantasy Paper Lights" are such a charming idea, and using your own imagery makes them truly one-of-a-kind.


Tease, edited by Sarah Sockit



Full disclosure: Sure, I contributed a project to Tease, but I'm certainly a fan of the other 49! Sarah rounded up super cool t-shirt makeover ideas from everyone from Angela Adams to Fred Flare, and the results are colorful, fun, and inviting. Each one is rated with handy icons like "Done in Under an Hour," "Special Shopping Trip Required," and "Knitting [or Crocheting, Embroidery, or Cross Stitch] Knowledge Helpful." They're also graded for difficulty from S (like the Hula Lampshade) to XL (T-Shirt Boxers) so you can plan your dream project accordingly.

Sarah says: Working with 44 different contributors on a project gave me the opportunity to have a lot of great interactions with a lot of amazing people. It was so incredible to contact people like the Austin Craft Mafia girls, Angela Adams, Katherine Shaughnessy, or Leah Kramer out of the blue and ask them to contribute and have them all so enthusiastically say, "Yes!" I thought I'd really have to court people like Amy Sedaris, Todd Oldham, Patricia Field and David Dalrymple to be a part of the book, but they too were caught up in the concept and the impressive crowd of contributors and were totally gung-ho.

The best part, now that the book is complete, is seeing people flip through the book and loving some projects so much that they want to go home and get right to work turning their drawer of junky ol' tees into something cool. Inspiring, yo!



Her favorite project: Many projects in the book are extraordinary in their remarkable transformations of a T-shirt into something totally different like a tote bag, circus doll, treasure chest or room décor. Others are brilliant fashion transformations from a boring old shirt to a clever, style-y garment that is totally unique. Callie Janoff, the founder of The Church of Craft, managed a superhero feat of making a really great-looking shirt, the "Empire Waist Tee," that requires absolutely no supplies, no skills, and virtually no time to create. It's one shirt cut in a few places to create ties for the shoulders and an empire waist, and it turns a totally blah, big t-shirt into a cute and unique fashion item. Brilliant!

My favorite project: I'm partial to the very first piece in the book, the feminine "Flower Cutout Tee" by Alison Rose--it's a cleverly designed applique that adorns the neckline with gorgeous cutout petals, just in time for spring.


Subversive Cross Stitch, by Julie Jackson




This hilarious collection of patterns puts the #@%&!! cross in cross-stitch, from profane pieces like "Bitch in Kitchen" to simply surly messages like "No You DIDN'T!," all embellished with deceptively charming borders of birds, hearts, or flower designs. Julie gives a thorough and beginner-friendly introduction to her preferred craft and then launches right into the 33 patterns themselves, encouraging her readers to "enjoy the delicious thrill of embroidering saucy messages in the last place people expect to see them."

Julie says: My favorite anecdote about the book is that my mother, who is in her 80s, loves it and told me that she keeps it right under her mattress. I was apprehensive about what my parents would think of the language, but they were supportive as always. On the copy I sent to them, I put Post-It notes over all of the "bad" words. I think it allows them to show it to their friends without their friends wondering if they've raised some kind of monster.



Her favorite project: I'd have to say "Is That All There Is?", for so many reasons. Not only am I a huge fan of Peggy Lee, but this song has always amused and perplexed me since it loomed large in that great jukebox scene from the movie "After Hours". And, sometimes, when I was stuck in a cube at a job that I hated, I found it really comforting to listen to this tune now and then. So this pattern is closest to my heart for all of these reasons. My little tribute to Ms. Lee: "Let's break out the booze and have a ball, if that's all... there is."

My favorite project: I love "#@%&!!" (aka "Curses") for so many reasons... it just says it all. Plus (if this happens to be an issue for you) it's work-safe for your cubicle, unlike some of Julie's more explicit creations.


ReadyMade: How to Make [Almost] Everything, by Shoshana Berger and Grace Hawthorne



This utilitarian primer to all things handmade is what you might get if the brilliant minds behind Martha Stewart Living, McSweeney's, and Wired all guest-edited each other's publications for a few shining months, and then crammed the resulting mash-up into a single book. Dozens of original projects are arranged by their main raw material--paper, plastic, wood, metal, glass, and fabric--and each chapter kicks off with a clever, visually driven history of the medium. Shoshana contributed the writing, while Grace came up with all the projects. And they managed to pull it all off in eight months, all while putting out four issues of their magazine and planning a wedding (Shoshana) and having a baby (Grace). Wow.

Grace says: The book was an opportunity for Shana and me to roll up our own sleeves and get our hands dirty to return to the roots of why we started ReadyMade in the first place. When you put together a magazine that's also a business, you don't always get to indulge in your own creative fantasies. Since the essentials of ReadyMade include design/customization, understanding the means of production and making stuff with your hands, we organized the book according to material, provided brief material histories (how man evolved from cave drawings to the Victoria's Secret catalog), projects of varying degrees of difficulty (okay, let's be honest, glass was hard! It is a difficult material to work with), and signature humorous essays (for example, in the plastic chapter, how to avoid plastic surgery).

The most challenging part about the book was coming up with the right mix of projects for each chapter. For each raw material, I wanted to make sure there was a nice diversity, and the projects had to look good. There was a TON of trial and error and infinite trips to Home Depot.




Project with the most anecdotes: the "Take-out Chandelier." It's one of those projects that midstream, you wonder, "what the heck am I thinking?" because you're in the thick fog of what appears to be a big mess. I was about 5 months pregnant in my freezing garage in rainy December drilling holes in plastic spoons dressed like Nanook of the North to keep warm. My husband was not happy. People in the office were big cynics. "What the hell is that?" they'd ask me. But when it was done... "Ahhhh" was the popular response.

The chandelier photo (above) has a nice-looking couple with loving gazes. That's Shana and her then-boyfriend. I told her... you better marry this guy if we're going to have him in the book... and they're getting married this weekend.

Her favorite project: My personal favorite from the book is the "No Sew Messenger Bag" because it represents ReadyMade on all fronts: the key ingredient is an everyday material, the end object has utility, it is easily customizable, the project is very gender neutral... anyone can make it, no sewing machine or sewing skills necessary, it's easy on the eyes (the NYT bags are a great blue color), and besides, who doesn't have newspaper bags or an iron?

My favorite project: It's tough, I adore (and covet) the "Eames-Style Drawer Unit," but ultimately I have to go with the instant-gratification "Coat-Hanger Wine Rack," which transforms eight wire coathangers into a remarkably stylish wine-storage solution with a few deft twists. I'm a pliers-over-power-tools type of girl, what can I say?


AlternaCrafts, by Jessica Vitkus



This glossy spiral-bound book, filled to the brim with colorful collage-style photographs and sidebars, invites both teens and adults to jump-start their DIYing. Jessica includes beginner-friendly projects in a broad range of craft mediums, from embroidery and decoupage to summer-camp favorites like woodburning and macrame. As she says, it's "a relaxed approach to crafting with an emphasis on recycling and transformation," with a few curveballs in the mix.

Jessica says: Basically, the book is supposed to entice cool girls into the craft scene--it's good for beginners. Nothing is too hard. But hopefully there are enough oddball, interesting ideas to keep the experienced crafter awake and excited. I get bored of my clothes, and if I'm not wearing a certain T-shirt, jeans, or sweater I am likely to attack it and improve it or turn it into something else. So there are lots of projects like that.

Many of the projects teach really basic craft 101 techniques (knitting, macrame, quilting, woodburning, printing, paper flowers embroidery) but apply it in a non-granny-ish way. Most AlternaCrafts projects involve using and reusing what's around you -- bottlecaps, buttons, T-shirts, wingnuts, chopsticks. Also, I hate glue guns and I prefer handsewing to machine stitching. (When I worked in the craft department at Martha Stewart's old show--the one before jail--my co-crafters made fun of me for being sewing machine phobic.) I find handstitching and embroidery super relaxing. So there's a lot of both.



Her favorite project:Well, it's like asking me which of my children I love best, but I do have a special warm spot for the "Pintastic Cards"-- the technique is so easy and the supplies are so few. It's based on an old Victorian technique called paper piercing--done with a special tool that you still see sometimes among scrapbooking supplies. But a pushpin (a thumbtack with a better grip) makes lovely little holes and is pretty easy to control. One of my favorite designs came from tracing jar lids and drinking glasses to fill the page with circles. You can also use templates over and over. If you are feeling feisty, poke your holes from back-to-front on your card for a more 3D effect.

My favorite project: I love those cards, too! I also like the "Table Talk" embroidered napkins embellished with tiny buttons--so sweet.


Generation T, by Megan Nicolay



Megan has created a staggering 108 t-shirt transformation projects, many of them scissors-only (ie, no sewing required!). She starts things off with helpful cutting, stitching, and embellishing tutorials and includes unexpected jewelry and accessories ideas alongside her garment designs for a truly well-rounded collection. Sprinkled throughout are clever snippets of "Tee Trivia" (did you know it takes about six miles of yarn to make a single shirt?) and "Tees in the Movies," listing every iconic t-shirt flick worth a spot in your Netflix queue, from Rebel Without a Cause to Flashdance.

Megan says: I like hosting Tee Parties from time to time -- everyone brings a T-shirt to refashion; we sit around gossiping and sipping tea (hot or iced, pick your poison), and at the end of the day, everyone gets to walk away with the perfect party favor.

During the writing process, we were getting close to the deadline for the photo shoot—and I still had about 30 projects left to make from the book. I hosted my largest Tee Party to date in order to get those projects made—it lasted 2 days! Friends and friends of friends came on over—I had T-shirts piled all over the room. It was great.




Her favorite project: Ooh, just one? With 108, it's so hard to choose... But my favorite in the shirt chapter is "Ode to the Mullet"—it looks like an ordinary T-shirt from the front, but has this cool ribcage effect in the back (i.e. "business in front, party in the back"). My favorite skirt is the "Flare Thee Well" circle skirt. Not only is it super spinner-rrific, but the fold-over waistband is comfortable and flattering on everyone I've seen wear it. And lastly, my favorite accessory—the "Go-Go Gauntlets." They're functional too—when the cold winds start to blow, they bravely defend against that pesky draft between your coat and mittens!

My favorite project: Too bad I got married last year, because project #108, "Tying the Knot," is a real head-turner: it's a formal, floor-length wedding dress made out of seven white t-shirts! Pair it with "Ice T," the perfect ring to symbolize your eternal love for all things DIY.


If you're eager for more book recommendations, be sure to check out getcrafty's own Bibliomaniac column by Jessica Reed for engaging reviews of titles in every genre, from classics to hot off the presses.


Susan Beal is a West Coast writer and jewelry designer whose all-time favorite craft book is the Reader's Digest Complete Guide to Sewing.



permalink | comments(4)
March 2006: Start your own craft circle!
Tuesday February 28th, 2006 07:13 PM
Getting together with crafty friends to hang out and work on your sewing, screenprinting, knitting, or crochet is so much fun! I talked to Kelly, Betsy, and Fiona about their amazing Tuesday night knitting group, which has been going strong every week for three years now—they even plan crafty vacations together. I added some tips for starting your own craft circle, no matter where you live.

How did your craft group get started?

Betsy: In the fall of 2002, I had moved back to Chapel Hill, and was annoyed that I only saw my girlfriends at shows or bars, where we couldn't really talk. When I was living in NYC a year earlier, I had attended a few knitting circles where I was stoked to have conversations with women at a place where we didn't have to yell or anything. I sent out an email to my girlfriends (some of whom I knew from getcrafty!) who I thought might want to get together and craft, telling them to send it to any interested parties. Happily, it grew organically, continuing on after I moved to London several months later.

Any advice for starting up a group?

Kelly: For me, Tuesdays are all about the good company (and good food), and the crafting and craft support are secondary. If knitting is the only thing your circle has in common, I can't imagine that will be very sustainable. I also think that having a regular and frequent time/day to meet is important to keep the group going, especially when not everyone can come every time. And good communication is important so everyone knows where to go and how to get there.

Betsy: Advicewise, I tell anyone who wants to start a knitting circle to first decide if they want to meet publicly or privately as a group. Then send an email to anyone and everyone you know locally about your group and ask them to pass it along to people they think might be interested or alternatively, you can post a note on a messageboard (like getcrafty!) and see if anyone there might be into it.

Fiona: Find somewhere everybody's comfortable meeting: people's houses, a coffee shop or a bar with a chill back room, etc. A mix of those works for us, mostly houses but sometimes we go out. We went out to a restaurant this year on the RSVVP night (the local fundraiser for hunger relief), for example.

What is a typical meeting like?

Fiona: Refreshments are the first step! Usually, it's a mix of delicious homemade snacks and baked goods and treats people pick up from the grocery store or bakery. Sometimes we're all in sync and it turns into the ultimate chips and salsa spread or something, but usually there's good variety. We usually have wine and appropriate beverages for our pregnant ladies. There have been some incredible treats, like Nora's chocolate-chili cake and lavender cookies, and Mexican ice pops. We usually gather around the food and just hang out for a while at the beginning. A couple of times when everybody's been tired, we've actually sat at the table and never gotten up!

Then we usually sit down in the living area and work on projects. The whole thing is very low pressure, which works well with our group's personality, I think. We also love looking at other people's works in progress or finished projects. Sometimes they model!

People drift in and out according to their schedules. Some come from work or class, some have to leave early, some go out afterwards. Some people bring their babies/kids, and a lot of people carpool.



everyone models their knitting wristbands from Plain Mabel

Kelly: Typically we meet at someone's house (though occasionally we knit in public) around 7:30 every Tuesday night. The hostess doesn't have to provide anything but space, but usually she will have wine and make something delicious to eat. We have some really good cooks, and good taste in store-brought treats, so the food is always exciting.

Eventually we knit or crochet or hold babies or just gossip. We show off what we're working on or get help fixing something. We always have music playing. We hang out for a while, breaking up as early at 9 or as late as 11. Sometimes we get drunk, or at least tipsy. We can always guess who is pregnant by when they stop drinking wine and switch to fizzy water.

What are some of the most exciting or fun projects and tutorials people have done?

Kelly: I did a screen-printing workshop where a couple of people made paper stencils and we printed cards and some clothes. Barbara did a tapestry workshop where we used old upholstery fabric sample books to cut up and piece together quilted wall hangings. It was fun and people made some really neat pieces.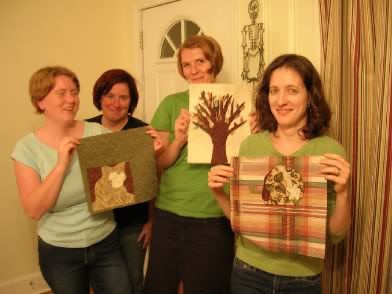 tapestries galore

We also had a skirt-making day at Fiona's house. I have a cute cherry print skirt to show for it, and Monica made 2 skirts. Several of the women in our group have had babies, and we make our own individual presents—tiny hats and socks and toys.

Fiona: Amy once made us all laminated bookmark-type cards with her favorite sock pattern in multiple sizes. A lot of informal advising and tip passing goes on too. I think that's the best. We've also done swaps of craft supplies, not limited to knitting, and also clothes.

We had a Crochet or Die night at Ellen's house—she's our resident master crocheter. It was really awesome, and everybody left with a granny square or some new knowledge. And Julie and I took a felting class and want to teach that when it gets warmer.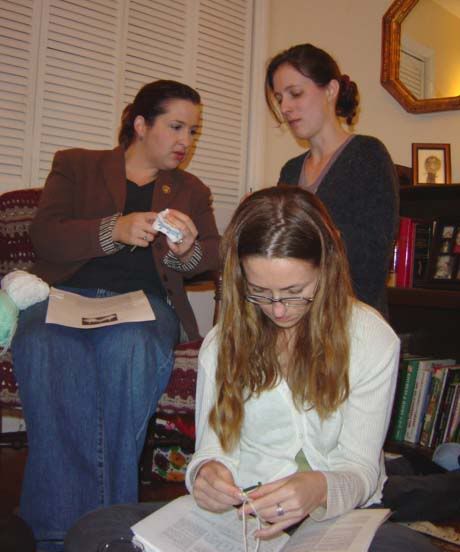 crochet or die!

What has helped the group stay so organized and run so smoothly?

Betsy: The fact that we got people together who loved the idea of meeting up and crafting is imperative. At our first meeting, I suggested we meet once every two weeks and the overwhelming vote was for once a week!

Kelly: As I mentioned before, the regular meeting day & time helps perpetuate the group. I started writing up an email newsletter/report about the evening's activities to talk about what everyone is working on, who brought delicious food, hot topics of conversation and links to patterns and other things. I've since handed that off to Rachel, my star reporter, and lately she's been doing picture collage e-mails.

The newsletter really helps us hang together as well, since it helps you feel in touch, even if you can't attend every week. Most of us are good friends, and the knitting group has helped cement those friendships and make sure we always have time to hang out, even when everyone is busy and has crazy schedules. The awesome food and wine is always something to look forward to, and since each person has her own specialty, that's another incentive to attend when you know the hostess will have some kind of great treat.

Fiona: We try to meet always, so as not to get sidetracked. This was especially true in the beginning, but we did skip Valentine's Day this year.

What are some cool things you have planned for the future?

Kelly: I claim to be working on a knitting cookbook, but that's really an excuse to make everyone give me their secret recipes. We don't have a knitting retreat planned yet for 2006, but we went to the beach last fall, and have been to Asheville, the Outer Banks, and Topsail Island in the past for lost knitting weekends. We've set our sights on Portland since one of our members relocated there, but nothing has been formally proposed.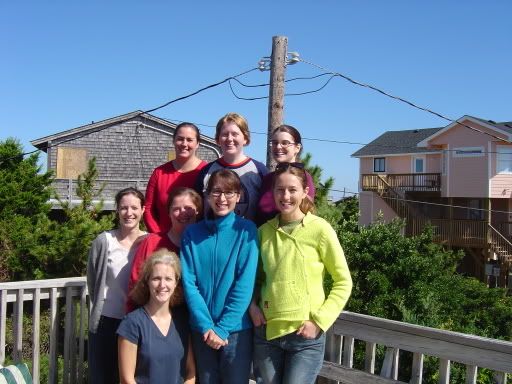 knitting at the beach!

Fiona: We do retreats at the beach and in the mountains. Those are so motivating and we get a lot done! There is also major food and drink action involved (we divide up meals and everybody brings a bottle of wine or 2) and sometimes we even watch After-School Specials on DVD. We definitely want to do more of these!

Anything else you'd like to add?

Kelly: I think everyone should grab their best friends and learn to knit! The best thing about our group is the support and encouragement we give each other. I finally tried making socks after seeing other women in my group make them, and I don't think I would have had the nerve to try without their example. I also love hearing about people's everyday lives—how they deal with things at work, at home, deciding to have kids or get married. My group makes me feel like part of a community of strong women, and I can't imagine life without it.

More tips for starting your own group:

•Join an existing SnB group or your local Church of Craft chapter. If they're not as active as you'd like, or you're hoping to do a broader range of crafty stuff, you can see if anyone there wants to get together as a spin-off in addition to the official meetings.

•Post on getcrafty's craft-up forum, craftster.org, your city's craigslist.org artist boards, or other online communities asking who else is interested in getting together to craft! Or make flyers and put them up at cool shops, craft stores, and coffeehouses in your neighborhood.

•Pick a convenient day and time, like a weeknight or a Sunday afternoon, and place (on transit, or easy to find). If you meet at a bar or other public place, make sure there's enough light to successfully craft, and that it's not too crowded or smoky for your group.

•Don't get discouraged if it's slow at first! Everyone gets busy, but if you keep having meetings and spreading the word, more and more people will hear about it and probably start coming regularly, too. For example, the Tuesday night group has 35 members, but only about 8 or 10 of them come every week.

•Offer to teach a new craft to friends, or trade off tutorial ideas--it certainly doesn't have to be just knitting, or sewing, even if that's what most people you know do. You may end up having some new crafters join the group that way!

•Start an e-mail newsletter or yahoo group to plan your next meeting dates and times, so everyone knows when and where to meet in advance.

- - - - - - - - - - - - - - -
Susan Beal is looking forward to learning how to knit Continental style at her next craft night!


permalink | comments(3)
February 2006: Crafts on the Go!
Sunday January 29th, 2006 11:16 AM
I love traveling almost as much as I love crafting, but I've learned the hard way that the two don't always mix! I've dropped seed beads all over the car floor, had a marker malfunction leak ink everywhere on a long flight, and lost my half-finished project somewhere along the way. But if you bring along the right craft, your trip will be so much more fun--here are some suggestions for travel-friendly projects!

I traveled all over Europe by train after college making jewelry, and met so many cool people who saw what I was working on and wanted to chat. I also sold quite a few pieces, or traded them for food, drinks, or books in English, another major bonus. When I drove cross-country to move to Oregon, I hand-sewed and altered a few t-shirts while it was my friend's turn to drive—it was a labor of love, but really fun, and the hours just flew by while I was working on them.

A few tips:

•Keep your supplies limited and organized. Don't bring all your beads with you, or every single strand of embroidery thread you own—choose what you want to work with, and leave the rest at home.

•A plastic organizer with little compartments and a tight lid is perfect for jewelry supplies or embroidery gear.

•If you're flying, use a nail clipper instead of scissors to snip yarn or thread. Cut out anything you can before you leave, too.

•A small tray or lid can be a great work surface in a car.

Here are the best crafts for taking across town or around the world —thanks to the craftistas for adding their suggestions!

Best portable crafts:

-Jewelrymaking and beading
-Knitting (especially on circular needles!)
-Crochet
-Macrame
-Origami
-Drawing or writing in a sketchbook or journal
-Hand-sewing (I made twenty felt flowers during a road trip to California last year!)
-Cross-stitching, embroidery, or needlepoint

Leave at home:

-Anything involving things that spill or stain—glue, paint, ink or water
-Anything toxic—glues, glazes, or chemicals
-Anything heavy or especially fragile
-Anything you would be devastated to lose

Happy trails!

- - - - - - - - - - - - - - - - - - - - - - - - - -

Reprinted from the "Craft My Ride" chapter of Super Crafty




- - - - - - - - - - - - - - - - - - - - - - - - - -

Susan Beal is leaving for the airport in a few hours, and bringing along two knitting projects (on circulars, of course) and some nail clippers!



permalink | comments(7)
<
>
| | | | | | | |
| --- | --- | --- | --- | --- | --- | --- |
| Su | M | T | W | Th | F | Sa |
| | | | 1 | 2 | 3 | 4 |
| 5 | 6 | 7 | 8 | 9 | 10 | 11 |
| 12 | | | | | | |