Cozy Soups for Fall
Thursday October 26th, 2006 09:22 AM
What could be better on a brisk fall evening than a bowl of soup and a piece of crusty bread? There is a terrific thread over in the Consuming Pleasures forum all about favorite fall soup recipes. In the spirit of simple, comforting, warming fall soup for evenings at home (or lunches, since soup in general travels and re-heats beautifully), I'd like to share three of my favorite soup recipes. Of course they are all inspired by professionally developed recipes, but have been tweaked enough that I consider them to be my own. All can be made vegetarian by using veggie broth or water instead of the chicken stock. Enjoy!

Tomato Bread Soup
3/4 lb crusty Italian bread
1T olive oil
1 small onion, diced small
2 cloves garlic, pressed
28 oz can peeled crushed tomatoes in puree
7 large basil leaves, cut into ribbons (and another few for garnish if you like)
3.5 cups chicken or veggie broth
1T sugar
1t kosher salt or sea salt

Heat oven to 350. Cut the bread into 1 inch slices, cut off & discard the crusts, then cut remaining squishy middle into 1x1 inch cubes. Place bread cubes on a baking sheet and put them in the oven for 15 minutes, until they are golden and dry. You could also just use stale bread if you have it.
Heat 1T olive oil in a large pot over medium heat. When it is hot, add the onion and sautee until translucent (8 minutes or so?).
Put the salt and pressed garlic in a small bowl and mush together to make a paste. Add this paste to the onion and sautee for about a minute.
Add the contents of the can of tomatoes, the tablespoon of sugar and stir. Cook until they are bubbling nicely, then add the chicken broth and allow the whole thing to come to a boil. Drop in the toasted bread cubes and stir. They will very quickly slurp up the liquid and the mixture will take on a puddingy texture.
Turn the heat down if you're worried about the soup at the bottom burning, and keep stirring until the bread cubes are pretty much totally broken up into the yummy, puddingy mess. It takes 5-10 minutes generally. If you don't like the looks of it, add more broth or some water a few tablespoons at a time until it is the consistency you like. When it gets there, stir in the basil bits and take it off the heat.
Scoop it into bowls, garnish with a drizzle of good olive oil, some parmesan cheese and a whole basil leaf. Yum!

Roasted Butternut Squash Soup

1 bag Trader Joe's cubed bn squash (this is about a pound-- peel, de-seed and cube a 1-2 pound butternut squash if you don't have a TJs nearby)
1 can chicken broth (low sodium best)
1 small onion, diced
1 shallot, diced
1 largeish clove garlic, pressed or minced
1T sherry (dry, for cooking)
1/4t nutmeg
1/4 c heavy cream or 1/2 & 1/2
2T maple syrup
2T butter
3T olive oil, divided
Salt & Pepper
Heat oven to 400 degrees. Put squash in a roasting pan, drizzle with 2T olive oil, shake salt all over and mush around with your hands so all of squash is oily. Put in oven to roast for 30 minutes, stirring with a wooden spoon after 15. (if you don't have time for roasting, you can cover the squash with water in a medium saucepan, bring to a boil and boil until tender, about 15mins, then continue with the recipe)
Heat butter and remaining 1T olive oil in a soup pot over medium heat. When melted and bubbling, throw in the onion and shallot. Saute until soft and translucent- 5-7 minutes.
Add garlic and nutmeg and saute another minute more. Add sherry and allow to cook until most of the sherry has reduced (maybe another minute or two).
Add roasted squash and saute for 5 minutes.
Add chicken broth and bring up to a boil. Once it comes up to a boil, turn down the heat and simmer for 10 minutes.
Remove from heat and let cool for about 5 minutes, then in 1 cup batches transfer hot mixture to your blender and puree until smooth (be very careful! it is hot and can jump up through the lid when you turn it on).
Return pureed soup to the pot, add cream or 1/2&1/2 and maple syrup. Stir until blended and heated through, probably 2-5 minutes.
Serve with crusty bread, yum!

Curried Lentil Stew, adapted from Epicurious

8oz Lentils (I use green, but any kind should work fine)
1.5T olive oil
4c Chicken (or veggie) broth
1 medium onion
1 medium carrot
2 cloves garlic
2t curry powder (i like pondicherry)
plain yogurt (Greek style is best)

Dice the onion, carrot and garlic in your food processor(or with a knife, just so they are nice and small).
Sautee them in the olive oil over medium heat for about 8 minutes (or until they are tender, however long that takes for you). Throw in the curry powder and lentils and stir for about 2 minutes.
Pour in the broth and bring it all up to a boil. Then turn it down to a simmer, cover, and let simmer for 45-60 minutes (until the lentils are tender), stirring occasionally.
If it gets too stewy for you (i like it thick), add more broth.
Ladle some into a bowl and add a dollop of yogurt, then stir in the yogurt and enjoy. Yum! It is very flavorful and filling-- be sure to use a curry powder you know you like, as of course that is the overwhelming taste.

Keep warm and cozy, and please share links or recipes for your favorite soups in the comments if you like!


permalink | comments(5)
Crafty Novel Writing Redux!
Wednesday October 04th, 2006 03:57 PM
Just a quick note to any craftista who has always dreamed of writing a novel but "just didn't have the time." Last November I participated in NaNoWriMo, or National Novel Writing Month (you can read about my experience here), and it is now a little less than a month before this year's odyssey begins.

I will definitely be breaking out my brand new pencils and going into the madness again. I want to point all of you with literary aspirations to the NaNoWriMo Website. Read the rules, set up your profile and get ready for a month of frantic scribbling fun! Many regions have "NaNoWriMo Kick-Off" parties in October so you can meet fellow NaNoNovelists if you sign up for your region's e-mail updates. Please comment with your NaNoWriMo name if you are signed up, so all of us craftistas can virtually support each other in this wordcrafty adventure. My NaNoName is belleepoquewhimsy.


permalink | comments(3)
Crafty by Mail
Wednesday September 20th, 2006 06:03 PM


There was a time there in the late 90's when almost all of my fun personal correspondence had switched to e-mail, and with the exception of birthdays and holidays, the only exciting post was an occasional magazine or catalog. One of the wonderful developments of the crafty internet revolution is the resurgence of thrilling postal mail. From swaps both large and small, to the ability to purchase unique handmade work from crafters around the world at places like etsy, I am much more apt to wait impatiently for the day's mail.

In particular, the crafty mail order club or subscription combines several elements of my "100 Things that Make Me Happy" list, including:
1. A surprise
2. Exciting mail
3. Crafty goodness
If you are unfamiliar with these, in brief-- for a small fee, a super-fun crafty surprise shows up in the mail monthly, or with whatever regularity the club abides by. I am not a member of as many of these as I would like (I'm sure there are tons I'm not even aware of!), but I'll share a little about the ones I've personally experienced. Please do comment with suggestions for others to check out-- I for one would love it if there was a "fabric of the month" or "yarn of the month" subscription by ooh, maybe SuperBuzzy or Purl.

mailorder, by Amy Karol of Angry Chicken and KingPod
I'm going to start with mailorder because your only chance to sign up for this year's mailorder subscription is today, September 20th through Saturday, September 24th. I was not lucky enough to get in on the very first run of mailorder last year, but I did snag a one-off of mailorder #2, and it was everything I dreamed it would be. A ridiculously yummy recipe for Banana Bread, a fabulous bonnet pattern for adults, kids and babies, and crafty whimsies like a merit badge, secret handshake and paper project. All of this in an 8.5x11" red envelope! I need not tell you that I wait with baited breath for this years' various offerings-- mailorder #4 appears to be full of Halloween goodness.

Plum of the Month
by Rachel and Amy


I recently learned about the Plum of the Month when several websites I love were up for their Plummy awards. Since these plum pickers obviously seemed to have good taste, I decided that I had to sign up right away for their crafty subscription. After all, who wouldn't fall for the super-sweet silly plums on their website? Plum of the Month chooses a handmade item by an indie designer and sends one along to each subscriber each month. They support indie business by buying the plums from the designers, and also by featuring the designer on their website for the month. They do a very good job of keeping the Plum a surprise until they're pretty sure everyone has gotten theirs, which is a big plus in my opinion. I received my September plum a few weeks ago and was blown away by the care taken with the packaging (cute handmade or painted plums everywhere!), and with the high quality of the plum itself, a lovely necklace from Mary Andrews of Contrary. I'm anxiously awaiting my October plum!

Button of the Month Club
by Laural of thimble


This club is admittedly a bit more specific-- the surprise is what the theme of the buttons will be that month. Laural is so meticulous and creative in her choice of graphics for the buttons that no matter what the theme is, the buttons will be mini works of happy art. They also come in a sweet little envelope with a pretty Canadian stamp (which is fun for those of us in the US who don't see those too often).

Tiny Showcase
Tiny Showcase is not exactly a subscription or mail order club, but the driving principles are similar. The idea of Tiny Showcase is to give artists a chance to sell high-quality prints in a run of 100, and to give art enthusiasts a chance to buy a small, lovely work of art for a reasonable price. They also donate a portion of the profits for each print to a charity that the artist chooses. Crafty artists like Susie Ghahremani of boy girl party, Jen Corace and Jill Bliss have sold their work through Tiny Showcase. Tiny Showcase prints are a great way to start a real art collection on a shoestring, and to support up and coming artists. Another bonus is that all Tiny Showcase prints are the same tiny 5x5 size, so they look good if you frame and hang them together on a wall!

Please don't think I'm neglecting the Queen of crafty subscriptions, The Sampler. I have never managed to get in there in time to sign up for a round, so I can't share personal experience, but I'm told it is fantastic.

I no longer trudge wearily down the steps to get the mail, and sigh with distress as I tear apart credit card offers before recycling them-- when a new month begins, any day could be the day a plum, or buttons, or an envelope full of crafty inspiration arrives at my door.



permalink | comments(6)
Summer Theme Parties
Thursday June 01st, 2006 11:54 PM


By Nancy Flynn

I love a party. I'm inspired to throw one at the slightest provocation, but summer is truly the party season. The light lasts longer, the nights are warmer, fresh fruits and veggies abound, and for many people, work slows down a bit too. While of course it is not necessary to have an excuse to invite friends over for snacks, drinks and conversation, it spices things up to set a theme to build your food, drink and ambiance around. The travel bug also bites in summer, but since many of us don't get more than a few days off, a party is great way to have a little bit of the exotic at home. I'll share some of my favorite ideas, and I hope you'll share yours in the comments.

The Sun Also Rises
Tickets to Barcelona a bit too pricey? Bring a little of Hemingway's Spain to your own living room or back yard.

To wet your whistle:
Low-rent Sangria
1 jug Carlo Rossi Red Sangria wine (or other two buck chuck)
1 2 litre bottle lemon-lime soda
2 fresh oranges, peeled and cut into bite size pieces
1 pint strawberries, hulled and quartered (or package frozen berries of your choice)
Pour wine to fill three quarters of a pitcher, add fruit, and refrigerate. Just before serving, fill pitcher the rest of the way with lemon-lime soda. Serve over ice.

To tempt your tastebuds:
Bacon-wrapped dates
Gazpacho

To enchant your ears:
The Gypsy Kings- Greatest Hits
B-Tribe- Suave Suave

That's Amore
I'm told that the canals in Venice get a bit ripe in the heat of the summer, so skip the plane trip and have some Italian romance at home.

Beve
Brachetto
This was my favorite drink in Italy—it is rather like a Kir Royale, but uses strawberry liqueur instead of Chambord. You can substitute strawberry Italian syrup
1 bottle Prosecco (Italian sparking wine)
Fragolo (Italian Strawberry Liqueur) or strawberry flavored syrup
Fill a champagne glass 3/4 full of Prosecco, then top with a generous pour of strawberry liqueur or syrup. Yum!

Mangia
Mozzerella Caprese
This super-easy salad is a crowd pleaser, especially when fresh basil and tomatoes are in season, the recipe below will serve 6 who are nibbling delicately.
1 container mini mozzerella balls (or one large ball mozzerella diced into just smaller than bite-size pieces)
1 container sweet cherry tomatoes (or 2-3 large firm, ripe tomatoes diced)
5-6 large fresh basil leaves, cut into ribbons
Olive Oil
Balsamic Vinegar
salt & pepper
Combine mozzerella and tomatoes in a large bowl. Drizzle with olive oil and a splash vinegar, sprinkle with salt and pepper. Just before serving, toss with basil leaves.

Tortellini Pesto Salad
1 container cheese tortellini
1/4 cup pine nuts (pignoli)
2-4T store-bought pesto sauce
Cook tortellini according to package directions. Put pine nuts into a dry skillet over medium heat and toast, shaking often-- keep an eye on them, they seem like they're doing nothing, but they can burn up very quickly!

Musica:
Lucio Dalla
Old Blue Eyes

Land of the Midnight Sun
Did you know that on Midsummer in Sweden the sun hardly goes down at all? This of course is cause for a great big, all-night party.

Ulrika Cocktail
My favorite Swedish restaurant in NYC closed recently, so I won't be able to have my favorite cocktail again unless I make it myself(or hop a plane to Stockholm)!

Elderflower cordial
white wine
cucumber, seeded and diced
strawberries, diced
ice
Place a few ice cubes, a few cubes of cucumber and pieces of strawberry in a wine glass. Pour a shot of elderflower cordial over the fruit and ice, then fill glass the rest of the way with white wine.

Cucumber Cooler
Sparkling water
Sugar syrup
1T fresh lime juice
diced, seeded cucumber
ice
Place 2T of diced cucumber in a large glass, pour lime juice and 2T sugar syrup over cucumber, add ice then fill with sparkling water.

Salmon and Pumpernickel
Smoked salmon
Dill
Honey Mustard
Pumpernickel or other dark bread
Cut bread into snack-sized triangles. Spread with honey mustard. Place a portion of salmon atop the honey mustart, and top with a small sprig of dill. Serve immediately

And of course, everyone's favorite Swedish band provides perfect accompaniment:
Abba

South of the Border
So maybe Cinco de Mayo passed you by—it's never too late for a little bit of ole!

Drink up
Super-easy Margaritas
1 can frozen limeade concentrate
Tequila
Water
Ice cubes
Large-grain salt (i.e. Kosher or sea salt)
3 limes, cut into wedges
Pour frozen concentrate into the bowl of your blender. Fill can with water and add to concentrate. Fill can 1/3 full of tequila (or your preference, less for weaker drinks, more for stronger), add ice and blend until nice and frosty. Cut a lime wedge in the middle and run it around the rim of the glass. Pour salt into a saucer, then twist top of glass on saucer to make salty rim (you can skip this, or substitute sugar if you prefer), place lime wedge in bottom of glass and pour margarita over top.

Fizzy Limeade
1 can frozen limeade concentrate
1 litre club soda or seltzer
Place 2T of limeade concentrate in bottom of glass. Fill glass 2/3 full with seltzer and mix gently, then fill the rest of the way with ice.

Yum
Tortilla Pie
Black Bean Salad

Of course there are plenty of other trips I'd like to take on my terrace, but there are only so many Friday and Saturday nights in the summer! I'd love to hear about yours.

Nancy Flynn is a dilettante crafter who lives in San Francisco with her fiance. She is in the midst of planning the biggest party of all-- her wedding in July!


permalink | comments(2)
Crafty Mother's Day
Sunday April 30th, 2006 10:39 PM


by Nancy Flynn

Despite having what seems to me to be one of the most challenging and important jobs there is, most mothers don't get a yearly cost-of-living raise or bonus. That's where Mother's Day comes in—the perfect time to give the mothers in your life a well-deserved pat on the back. While a trip to Paris or a long weekend at Canyon Ranch would be ideal, there are plenty of creative and crafty ways to celebrate the hardest working women in your life-- your mother, mother-in-law, and girlfriends with young children.

Film Festival!
Invite your mother over for an afternoon or evening film festival—you can suit the line-up to her particular tastes. Just a few suggestions:

Anglophile Afternoon Tea
Make a batch of scones, pick up some lemon curd or clotted cream, brew up some English Breakfast and curl up to watch some BBC favorites:
*Pride & Prejudice (the long version will take a whole day)
*Persuasion
*The Tenant of Wildfell Hall
*Jane Eyre
*The Buccaneers (yes, Edith Wharton is American, but it still works)

Weepy Evening
If you like to bond with your mother while shedding a tear, pull out the tissue box, a pint of ice cream and these classics:
*Steel Magnolias
*Terms of Endearment
*Fried Green Tomatoes
*The Notebook (ok, its new, but still good, romantic and just sad enough)

Spa Day
Parcel up some bath salts, a bottle of pretty nail polish, moisturizing lotion and some cotton gloves and socks with a ribbon. Get together, soak and buff your hands and feet, moisturize, then put on the socks and gloves to let it sink in while you watch these make-over movies:
*Pretty Woman
*My Fair Lady
*Sabrina (you can never have too much Audrey)
*Never Been Kissed

New Mothers
From my very unofficial survey of mothers of young children, the most valuable gift you can give them is time—either to spend by themselves or with their partner. A few ideas:

*Idle Afternoon- Give your girlfriend a gift certificate to a local coffee shop, a fun magazine, and a certificate for a few hours of babysitting, courtesy of you, to be redeemed whenever she needs a little break.

*Date Night- A gift certificate for two movie tickets at a local theater, a bottle of wine, and the offer of an evening of expert babysitting can let your friend have a much-appreciated evening of romance with her sweetie.

*Dinner's On Me- Buy or thrift an oven-safe dish and make your favorite one-dish supper, freeze it and present it to the mother-of-choice with a bagged salad, small jar of homemade dressing and re-heating instructions. She will be able to enjoy a home-cooked dinner with minimal effort. Be sure to include the recipe too, in case she'd like to make it again!

Mothers At A Distance

Of course we all don't live near our favorite moms—both my mother and mother-in-law live across the country—so below are some ideas for mail-worthy crafty gifts.

*If she enjoys entertaining, send a matched set of fabric placemats and napkins in her favorite color scheme. These can be made with minimal sewing skills and are easily hand-sewn if you do not have a machine:
Placemats:
*Cut a piece of fabric 18x13 inches
*Turn long sides under ¼ inch and iron, then turn under another ¼ inch, iron again, then pin.
*Sew along the inner edge, then repeat on the short sides. You're done!
Napkins:
*Cut a piece of fabric 12x12
*Repeat instructions for placemat to hem napkins

* If she likes a restful afternoon, send an afternoon tea in a box—include your favorite tea, cookies (they sell English digestives in some markets), and a book—if she enjoys Jane Austen, perhaps she would like Barbara Pym, or Jacqueline Winspear's Maisie Dobbs series, or my personal favorite, I Capture the Castle by Dodie Smith.

*For those who like green, growing things, send a selection of seeds or bulbs. If the backbreaking work of planting may be a bit much, call a lawn center in her area to see if you can make an appointment for someone to come by and plant them for her. If you are planning a visit, include a gift certificate for your own gardening services.

When we were children, the best gifts were those we put our hearts into—the painstakingly made clay bowl from art class, or the card we labored over to make every letter perfect. Even now you will likely find that the gifts mothers will most treasure are those that bear evidence of our time, creativity and concentrated thought about what they enjoy. Hopefully this column is a good jumping-off point for your Mother's Day celebrations! Please do share your favorite Mother's Day ideas in the comments—or if you are a mom, your thoughts about what your loved ones could do, or have done, to celebrate you.


Nancy Flynn is a dilettante crafter living in San Francisco with her fiance. This year she gave her mother a handmade totebag for Mother's Day.



permalink | comments(2)
Spruce Up Your Wardrobe, The Crafty Way
Friday March 31st, 2006 07:41 PM


By Nancy Flynn

Something about spring makes me want to shop. Maybe it's a desire to emulate the little blossoms with all new springy petals. Sometimes shopping just isn't in the cards, or the bank balance, but that doesn't mean you can't do some springtime re-invention of your wardrobe with a few crafty tricks.

Sash Your Dresses and Shirts
With fabric and a ribbon you can make a fancy sash to doll up plain dresses, long, billowy shirts and even tank tops.


1. Measure around your waist where you'd like the sash to sit and add an inch to this measurement. I use a .5 inch seam allowance, so adjust your measurement accordingly if you prefer .25. Cut two rectangular strips of fabric this length, and however wide you'd like—I cut mine 4.5" wide so that the finished sash would be 3.5" wide after sewing.


2. Cut a piece of ribbon that is long enough to wrap around your waist and tie a big bow, then cut this in half so you have two lengths of ribbon.

3. Pin the fabric pieces right sides together and make into a tube by sewing the long edges, leaving both short ends open.


4. Turn right side out and iron flat

5. I wanted my sash to have a bit of structure, so I cut a piece of felt the size of the finished tube, and fed it inside like you would a drawstring or elastic waistband.


6. Turn raw ends of one short edge inside the tube, insert one ribbon end into it about half an inch, and sew across.


Repeat on other open short end with second piece of ribbon, and voila, you've got a sash.



Re-new Your Shoes:
I honestly don't know why they fell out of favor, because shoe clips are genius, and slowly making their way back to the fashion mainstream. Not only that, but they are very easy to make with a few simple supplies. You can totally revamp a pair of shoes with some alligator clips and artificial flowers, or a pair of inexpensive sparkly clip earrings or brooches.
Go from this:


to this:


I made a kind of sad-looking (but pink!) fabric flower for mine. I wish I had found this amazing fabric flower tutorial from Wisecraft before I got started, because I would have made one of those instead! At any rate, simple steps.
1. Get your fabric flower and your alligator clip together:


2. Secure the flower (or button, pom pom etc) to the clip by sewing or with some good glue:


Then just make another and clip 'em to your shoes!

Beautify Your Buttons:
Fabric-covered buttons can bring new life to a tired trench, or an old cardigan. Button-covering kits are relatively inexpensive, and you can choose any fabric you like in your favorite spring colors to bring your old jacket back into the pink of fashion.

In my experience, it is best to use thinner, non-stretchy fabrics like cottons, linens and silks. I've seen some gorgeous kimono-fabric covered buttons on Etsy as well. Only one caveat—make sure you get coverable buttons that are the same size, or even slightly smaller than the ones you're replacing. You want to make sure they aren't too big to fit through the buttonholes, and they do tend to be a bit fatter than the average flat plastic button. If all else fails, remove just one button from the jacket, cover a single button, sew it on to make sure it fits comfortably through the buttonhole.

I've used the Dritz "Cover Button Kit"—it is pretty self-explanatory, but just in case you want to see how it works before you try it, the steps are as follows:
The Pieces:


1. Using the pattern cut from the back of the package, cut a circle of fabric


2. Place fabric in white rubbery piece and push rounded button front into white piece


3. Tuck in the fabric as best as you can, and cover with the button back, matching up the slit in the button back with the loop on the button front


4. Using the blue plastic piece, push hard on the button back until you hear it all click into place


And you've got pretty buttons!



Jazz Up Your Tanks:
There are so many clever and crafty things to do with t-shirts and tanks. First of all, check out the great things Maitreya of Craftlog does with t-shirts, including cool appliqué and sewn-on sash hems. A few other ideas:

Embroidery: I'm sure I won't be telling you anything you haven't heard before when I say that the patterns at Sublime Stitching totally rock. I've bought super-cheap tanks and t-shirts, or pulled a boring old one out of the drawer, ironed on one of Jenny's patterns and had the cutest top on the block a few stitches later. I just stick my shirt on a hoop and go, but if you're an embroidering newby, it is a good idea to iron some stabilizer to the back of the area you're working to keep it from being too stretchy and difficult to sew. In case you don't find what you're looking for at Sublime Stitching, Clover also sells embroidery pattern transfers, and I've made my own by tracing over a line drawing with Aunt Martha's transfer pencil and paper. If you have other favorite embroidery pattern sources, please share them in the comments!

Fabric Paint: Did you go to puffy-paint parties as a tween? While recent retro-80s fashion trends indicate that those oversize sweatshirts with day-glo green, orange and pink swirls and flowers may actually come back in, fabric paint can be used more subtly too. I'm not much of an artist, so I like to use stencils when embellishing t-shirts with fabric paint. Make sure to wash and dry your shirt, then put some newspaper or a magazine inside (to keep paint from bleeding through both layers), and tape your stencil on with masking tape. Squirt your fabric paint onto a paper plate as a "palette" and using a wedge-shaped cosmetic sponge, blot paint carefully into portions of the design, changing colors as you like. Heat set the paint according to the directions.

Ribbons: Ribbons liven up just about anything with minimal effort—tie them in bows at the top of your straps, sew or glue one to a shirt just below the bust line for a sweet empire look, or use them instead of cuff links on a French cuff shirt.

This is only the tip of the iceberg when it comes to livening up a wardrobe without spending a fortune. I'd love to hear the crafty ways you all bring a little spring to your closet, so please share any other tips, tricks and sources in the comments section!

Nancy Flynn is a dilettante crafter who lives in San Francisco with her fiancé. Her favorite colors for spring are pink, yellow and navy blue.




permalink | comments(8)
Crafty Spring Cleaning
Friday February 24th, 2006 11:32 PM


by Nancy Flynn

Even if it is still cold outside where you live, the days are getting noticeably longer and spring is on the way. In the interest of full disclosure, spring cleaning chez Nancy happened by force—the moving truck was coming, and I didn't have enough boxes for all the stuff. But certainly casting off the old, polishing off the dusty, and getting things in order is a great way to start off the warmer months coming our way (or the cooler fall months for those of you in the Southern Hemisphere!).

For a crafty person, obviously spring cleaning is going to be a bit different—instead of having two piles—donate and toss, you might have four—donate, sell, good for crafting, and toss. What to hold on to, what to let go of, and what to do with the stuff you keep can be hard to navigate, so this column will explore crafty options for spring cleaning.

Let it go:
The rules of thumb for letting go of various sorts of "stuff" are widely known. But I need to be reminded of them every time I take on a spring clean, or a move. It is necessary to be both brutal and ruthless. Said brutality and ruthlessness are all in the service of doing good—making donations to charities that either sell your stuff to help people in need, or pass along your stuff directly. So, a little room-by-room recap on the rules for letting go:

Your Closet:
•If something in your closet hasn't had a showing in a full cycle of the seasons (i.e. one year), let it go.
•If you've worn it and it caused you pain or discomfort—too tight, too short etc—let it go. Get rid of your skinny clothes, or your fat clothes, because honestly when you lose or gain that weight again, I guarantee you styles will be different. And it doesn't matter if those shoes were a great deal, if they pinch your little toe every time you wear them, let them go.
•If you just don't like it, let it go. Do not make yourself do penance for bad purchases—if you accidentally bought ugly boots because they were on sale, or didn't check the rear view on a pair of pants before buying, or otherwise just don't like something, even if it is perfectly good, or even almost new, let it go.

Your Kitchen:
•If it is expired, throw it out—check all of your cans, boxes and bags, and everything in your freezer. Open all of your spices and sniff them to make sure they're still nice and spicy. Some say they should be tossed after 6 months, some say 4, but the sniff test is good enough for me.
•If you have more of them than you need, let them go—in my house, this is mugs. Glasses break, so I keep all of those because they winnow themselves out. I have way too many mugs, and only one I really like drinking out of that I'll wash rather than using another one. Keep enough of any serving item that isn't part of a set only for the number of guests you realistically may have for dinner/drinks/tea, and let go of the stragglers.
•If you don't use it, let it go. I have a madeleine pan. There is a Proustian fantasy that made me buy said pan, but I have made them twice in three years. There are other cookies I like better that don't require a unique pan that takes up space.

Your Bathroom:
•Expiration: Toss any prescriptions, painkillers and even sunscreen that have expired
•Purge your cosmetics and bath stuff: If it is caked, badly broken, or smells funny, toss it out. If you discovered that blue eye shadow really wasn't you, let it go, if it comes back into fashion it probably still won't be you. Don't save bath stuff or moisturizer or perfume for special occasions—it can go bad. Either put it somewhere that you'll see it and use it (you deserve it), or get rid of it.
•Give your towels a good look—if they are badly discolored, ripped, or no longer absorbent, they may belong in the rag bag--you deserve some new ones! It is possible to get inexpensive towels in a rainbow of colors at any number of discount stores, and it can really spruce up your shower.

Your Bedroom:
•Check out your bedside table- put away or give away books you've read that you don't need right at hand, and make sure any hand lotion or lip balm you keep there is as fresh as you'd like
•Under the bed is a wonderful storage space—make sure you remember what is down there and that you still need it.

Your Home Office/Bookshelves:
•There are all sorts of rules about when you can shred papers related to tax-time. The general rule of thumb is about 3 years, but if you feel better keeping everything, that is one area where throwing away precipitately can lead to active regret in the case of an audit! Click here for a good idea of what to keep and how long to keep it.
•Books are hard for me to let go of, but they take up a lot of space. Get rid of the ones you know will always be available at the library (i.e. classics), get rid of any you definitely won't read again, and get rid of any that you bought/acquired but have sat on your shelf for more than six months without being read or referred to once.
•Get rid of stuff that doesn't work-- headphones that are scratchy, the stapler that always jams, your old laptop with the broken screen and the dead hard drive (get any data you need recovered if possible). You will not use it again, and if you have a Mr. or Ms Fix-it in your life (or that person is you) and the item hasn't been seen to yet, it probably never will be.
•Magazines: If you have stacks of favorites and lots of time, get yourself some 3-ring binders and plastic sheet protectors and get ripping. Pull out any article or recipe you think necessary, pop it in a page protector and snap it in a binder. Keep your binders organized however makes sense to you—I have a main-course recipe binder, a dessert binder, and a craft ideas binder.


Your Craft Space:
This is a tough one, as every crafter is different, so I'll just offer up one piece of advice:
*It is good to let go of crafts you took up enthusiastically but found were not really your style. For me, that would include tatting and tiny-piece quilting. I do not keep tiny pieces of scrap fabric anymore, and I'm giving away my tatting needles. Be honest with yourself about how you want to spend your crafting time—if you know you will probably never prefer crocheting to embroidery, that is ok, and maybe you want to make space for more thread and less yarn.

Clearly this doesn't cover every room, or every category of stuff that could be culled. There are those who have garages and attics, which seem to me to be places that require whole other systems of cleaning and organization. Spring cleaning is about making the spaces you live in daily lighter and easier, so give yourself a break about rooms you rarely use, or that are designated for keeping odds and ends.


The Pile System

Ok, you know the rules, so as you go through your rooms and your stuff, it is time to designate piles for the things you are ruthlessly, but altruistically, getting rid of.

Pile 1: Donate
There are so many wonderful charities out there that accept gently used items. Most people have a favorite, but the resources section at the end of this column offers a few to choose from if you need some guidance. Some will come to pick up large or bulky items like furniture, and all you have to do is call. Some tips on what to donate:

•Clothes that you wouldn't wear for reasons of fit or style, not because they are terribly dirty or in bad shape—random logo t-shirts, acid washed jeans etc.
•Old sheet sets—it is ok if they are faded and worn, just not stained or ripped.
•Books- in my opinion even dog-eared and lightly highlighted or written-in are ok, as long as they are still legible

Pile 2: Sell
A confession- I do not have a sell pile. I know myself well enough to know that I do not have the patience, time or energy to sell my stuff on Ebay, or to have a garage sale. I prefer to use this pile to throw a modified Naked Lady Party and pass along good stuff to my friends. Unless you are an Ebay or garage sale master, you should only sell things for which the sale price will be worth the time and effort you took to put them up for sale, some examples include:
•Nearly new clothes/shoes you've barely worn.
•Books in good condition (many used bookstores will give you credit for these so you can come back for more!)
•In-demand vintage items.

Pile 3: Craft it Up!
There are in-between things that may not be new enough to sell, old enough to donate, or flawed enough to throw away, that crafters can give a new life. Imagine that you are thrift shopping in your own house, and finding new uses for worn-out things.

A few ideas to get you started:
•Wool sweaters with edges that haven't been serged: If you are a knitter or crocheter, you can unravel these sweaters for lovely yarn! Obviously this is a bit harder with super-fine weight yarns, so choose carefully. Some great tutorials on recycling sweaters for the yarn can be found here and here

•Wool things that went in the wash: Yay for felt! I have some wool/cashmere socks my sweetie accidentally put in the wash that are going to become the softest, cutest sock monkey ever. If you have fine weave sweaters that are too holey to donate (a moth got at one of my cashmere sweaters), try machine-felting them and use the resulting soft, thick fabric to make pouches, mittens, hats or anything else you desire

•Linens with holes in them: If your favorite sheet set has holes in it, or your curtains have faded beyond recognition , you can salvage them. Sheets can make great aprons, linings for bags, and skirts. You can also cut squares from unfaded portions to use in a quilt, or cut a floral motif out to use as an appliqué

•Clothes with special meaning: The old standby t-shirt quilt is great here.
If you don't think you can come up with a use for it, but don't want to throw it away, think about posting it for other crafters on Freecycle.com , or even craigslist.


Pile 4: Throw away
When I say throw away, I don't mean just the garbage, I also mean the recycling bin. In my experience, every area has different rules about what can be sent to local recycling centers. Spring cleaning is a good time to brush up on those rules, and make sure that anything that can avoid the landfill does. It is also good to keep a rag bag in your pantry full of cotton from old t-shirts and even underwear , as they make great polishing cloths.

There is only really one hard and fast rule as far as throwing stuff away goes:

*I'm sure you don't need me to tell you this, but don't donate anything that is so gross you would never use it. If the charity staff has to put on HazMat gear to deal with it, it should go in the trash. For example, badly stained or threadbare clothes and linens, dangerously chipped classes or mugs, everything expired from your kitchen or bathroom.

When all is said and done, and you've brushed the dust from your jeans and cleaned the dirt from under your fingernails, you'll feel great. There is a feeling of satisfaction in loving everything you have around you—knowing that the clothes in your closet fit and make you feel pretty, that your favorite books are at your fingertips, your linen closet isn't bursting open, and you have a perfectly edited selection of craft supplies that includes new items you've thrifted from your own house. So brew yourself a cup of tea or coffee, relax and enjoy it!

Resources:
By no means exhaustive—please feel free to add your own favorites in the comments!

Charities for Donation:
The Salvation Army
Goodwill
The Red Cross-
Dress for Success—Good condition women's business clothing-
The Princess Project—for dresses/bridesmaids dresses-

Crafty Organization Inspiration:
How to by Ceebee
Organizational Craftistas-
HGTV's Take
Craft Blogger Cotton Strudel calls March "The Month of Spring Cleaning" and blogs her progress.


Nancy Flynn is a dilettante crafter in San Francisco who just moved a block from her old apartment. She lives with her fiancé in her new apartment, which is full of boxes of stuff she is sure she loves. She'll be using Ceebee's tutorial on organizing a craft space very soon.




permalink | comments(6)
Have a Crafty Valentines Day
Sunday January 29th, 2006 10:53 PM


by Nancy Flynn

I am a big fan of Valentine's Day, always have been, despite the fact I didn't have a date on Valentine's Day until I met my sweetie (who, probably not coincidentally, I'll be marrying this summer). Smack in the middle of one of the more miserable months of the year, there it sits, a holiday all about letting people know how much you love and appreciate them. Who doesn't need some chocolate, kind words, and bright colors in February? Along with romance, I think Valentine's Day is at its happiest when you can surprise a friend or a colleague with a token of your affection and gratitude for the little something special they bring to your life. And lets face it, who really gets a kick out of chocolate and flowers and treats? My sweetie? Not so much. My female friends? You bet. So this is an article all about DIY Valentine treats and ideas for your friends, colleagues, sweeties and, most importantly of all, yourself! Because how often do we treat ourselves with the love and affection we so richly deserve?

For Friends and Family Far Away—The Valentine Pamper Pack
I live in a different zip code than many of my dearest friends. Most of my correspondence is through e-mail, but Valentine's Day is a good time to get some fun real post together. The bonus being that unlike the earlier holiday season you don't get mobbed at the post office, and no one is expecting to get anything, so it is a nice surprise. Since most of us are in need of some serious TLC in the seemingly endless weeks before spring comes, I like to make a little mini spa in a box for my girlfriends far away. The idea is that with the items in the box, they can have a happy Calgon commercial experience—a scented bath, some hot cocoa, and a little light reading.


Just a few things you can include:
*A Valentine, naturally
*Home made bath salts I used lavendar essential oil to make mine.
*Deluxe home-made hot cocoa mix ready to pop in a mug: two teaspoons unsweetened cocoa powder, four teaspoons sugar, and one square of very good chocolate grated nice and fine, mix all together, put in a food-safe bag and include directions-- heat 8oz milk in a saucepan until steamy, pour in cocoa, stir and enjoy!
*A trashy celebrity magazine or fun brain candy read


If you don't have the time or the money to prepare little gift packs, a fun, crafty and inexpensive alternative for mail-away valentines is watercolor postcards. You can get them at most art supply stores, 25 cards for no more than 8 dollars or so. Grab some inexpensive watercolors in the drug store and paint your heart out—you don't have to be an artist, as lopsided hearts are more in the spirit anyway. Kids glitter glue is also a nice accent and generally will stay on even after going through the post. Also a bonus is that the postage is cheaper than sending a card in an envelope. Write a kind wish, or a favorite quotation, or even get a bit stalkery and glue on a message cut from magazine letters. Just make sure to tell your friends later that it was you, so they don't start watching their backs too closely.



For Colleagues and Neighbors
When I was in college I used to stay up late the night before Valentine's Day, making valentines and wrapping up little packets of Hershey kisses in tissue paper. In the wee hours I would tape up Valentines on doors and leave little packets of goodies throughout my dorm. The next day I'd ride around on my bicycle when people were in class and drop off treats for my friends in other dorms. This was a huge amount of fun for me, and I was surprised by how thrilled people were to get their secret valentine and treats (eventually I'd come clean and admit it was me). I think people need this even more in the "real world," though it is a little trickier when it comes to celebrating a traditionally romantic holiday with co-workers. Your office may be a bit like third grade, where you had to give a Valentine to everyone or no one, or very corporate and not open to whimsical or personal gestures. Obviously you'll have to judge the situation based on your workplace, but I'm willing to bet there is at least one person you like at work who both deserves a Valentine and would appreciate getting it, so if your workplace is generally a bit fusty, you just have to be stealthy about it. I try to get into work before everyone else does, and leave a little something on people's desks, or in their mail slots. In this case it is best to be fairly simple to avoid anyone thinking you haven't got enough work to do if you have time to make Valentines when you get home, or that you have a crush on them. A few ideas to get you started:

*Tissue flowers (they travel better than real ones)
* Origami Hearts I have to thank getcrafty's own Joyce for those instructions


*Sweet Hearts, Hot Tamales or Hershey Kisses in an origami box



For Your Sweetie:
I won't write too much here, as obviously the focus of the holiday is on couples. There is a lot of pressure on couples for Valentine's Day, which can make it both stressful and a bit of a letdown if your sweetie is not Casanova. It is to be hoped that there needn't be an official day on which you are kind or generous to each other, or that there must be the excuse of a loud red-themed Romantic holiday for your sweetie to take you out to dinner. By all means if your sweetie will only get you chocolate or take you out on February 14th, or if it is your one chance to get a babysitter and have an evening together alone, then take advantage! However, if for you part of being a couple means that every day is Valentine's Day in terms of expressing your appreciation of one another, it can be quite romantic to celebrate with a quiet and relaxed dinner at home if it can be managed without too much fuss. I won't recommend recipes since choosing something you both love to eat is part of the fun. And there is no rule against ordering takeout if neither of you want to cook, but whatever you choose, set the table like you are having important company, and by all means break out the candlesticks! If you drink alcohol, pop a bottle of wine or champagne to share, if you don't, fancy sparkling water with some blood orange juice (in season at this time of year, and oh so yummy) makes a nice refreshing and attractively pink drink. You could, of course, add blood orange juice to your champagne too!

Last year I made a mobile out of chopsticks and origami hearts and hung it in the doorway before my sweetie got home, and cupcakes, topped with sweet tarts, for dessert. I wrapped up a few bundles of his favorite candy for him to open too. If you've been in a relationship for a long time, it is also a great gift to both of you to write your sweetie a list of all the things you love about them, from big to small, because sometimes those are the things that can get lost in the daily shuffle. It is fun and romantic to think about all of the things you love about your sweetie. Even if he (or of course she) is one to blush or guffaw at this kind of mushy stuff, believe me it will give him or her a warm glow to be appreciated for so many things!

For Yourself:
Who deserves your love and kindness more than anyone else? You do! So no matter what else you do, make sure to give yourself some Valentine treats. The options are endless, but here are just a few:
• Fresh flowers: It is winter and in many places rather grim and grey. Fresh flowers are definitely a luxury item, but one that really does make a room and a mood brighter when there isn't much blooming outside. Just for this week, buy yourself a bouquet of your favorite flowers and set it where you can see it—in your kitchen, or by your bed, or in your cube at the office. If you don't care for cut flowers, cyclamen are a lovely potted flowering plant that should still be in season, and some florits/grocers sell forced potted bulbs for narcissus and hyacinth
• Spa Yourself: Save one of those spa treatment packs for yourself, if you don't live alone, send your sweetie or roommate out on some errands (with the kids if you've got 'em), and take some time in the tub with hot cocoa and a fun read. Set a time during which you will think only of relaxing and enjoying yourself, and keep filling up the tub with warm water if it gets cold in that time. Don't think about work, or housework, or anything that normally keeps you from relaxing. Peruse the bookstore for your favorite brain-candy author's latest novel, or if you like gossip but don't want to be seen with the tabloids, this is the time to go wild-- buy them anyway for your tub time. If you know that you can't rely on your housemates or yourself for this kind of alonetime, call a local day spa and book your treatment of choice. I know I'll be getting a manicure and pedicure come February myself!
• Write yourself a love letter: Ok, maybe it sounds cheesy, but just like writing someone you love a list of their most wonderful qualities feels good, it feels even better to take some time to think about your OWN most wonderful qualities. You definitely have them, and deserve a pat on the back for them
• Artist's Date: One of the great things about the book The Artist's Way is that it recommends taking yourself on a weekly "Artist's Date", just you, doing something that inspires you creatively. Take your artist self on a Valentine's Day date—go to a museum, see some local experimental theater, take yourself to a film at an art house (or to something no one else you know wants to see. splash out on movie food to make it a real date), get dressed up and be the mysterious woman sitting alone at the local jazz club (take the drinks people send over, but refuse to accept any company), anything that you normally wouldn't have time for given the daily hustle and bustle, but that will give you a thrill and make you feel cultured, sophisticated and inspired, or, for that matter, young, innocent and giddy.
• Have a tea party: If you have time, send paper invitations to your best friends (or friend) and invite them to tea. Suggest people dress accordingly if you like, or make it casual. Make or buy your favorite pastries & cookies, bust out the fancy mugs/teacups/teapots, splurge on lemon curd and clotted cream and have a good long sugar and caffeine-fueled afternoon chat with some of your favorite people. Make a point of complimenting them (honestly, of course) and telling them the things you love about them, and why you enjoy their company so much. You'll be surprised at how inspired celebrating your friendships will make you feel.

Luckily writing this article has helped me get my Valentine treats done well in advance of my usual February 13th midnight rush. I hope that if you have been in the habit of thinking of Valentine's Day as "Black Tuesday" in the past, this will make it more fun, or if you are, like me, a devoted follower of St. V, this has given you some ideas to make the holiday that much more crafty. I'm looking forward to seeing your own crafty valentine ideas and links in the getcrafty blogs too!




permalink | comments(7)
NaNoWriMo: Crafty Writing
Monday November 07th, 2005 12:00 AM
by Nancy Flynn

This month I've taken on the ultimate dilettante task of writing a novel in a month, inspired by the bizarre and brilliant NaNoWriMo, or National Novel Writing Month. You can read more about the origins and details on the website, but the basic version is this: in November, people all over the world make the committment to write 50,000 words of fiction in 30 days.

Having never written a novel myself, I felt a deep affinity for this idea-- all of a sudden, novel-writing seemed crafty. Once I learned to sew, my first thought upon seeing a nifty bag or skirt was "How can I make that?" Learning to knit and crochet gave me the same feeling about hats and scarves and sweaters. Perhaps it is more time efficient and cheaper to buy something mass produced, but one of the joys of craftiness is knowing that you can make the things you like with your own style and your own two hands. Even though novels are right up there with clothes and accessories as necessary consumables for me, it had never occurred to me that I might be able to make one. Possibly this is because we are conditioned to feel that writers are rarified creatures living in thrall to their creative muse, squirreling themselves away in ivory towers to be brilliant and inspired. Or perhaps because, if we are people who love to write, we believe that the whole point is to be published and adored, and the fear of writing something awful that only our mothers and closest friends could pretend to enjoy reading keeps us from even trying.

Once I started looking at writing as something crafty-- something to be worked at, 1700 words a day for 30 days with the goal of 50,000 words-- I started feeling about it the way I do about knitting. I am not a great or creative knitter, but I get a deep sense of satisfaction from every scarf and hat that I finish, no matter how flawed. It is still warm, it is still the color and texture and weight I've chosen, and I still wear it with pride. I can knit without feeling it has to be perfect, or that I should be a professional knitter or pattern maker for it to be worth it. Why should noveling be any different? There is a value in exploring the byways of your imagination and vocabulary, whether you let anyone else read it or not. And just as even the simplest garter-stitch scarf requires hours of time and attention to make it to 5 feet long, so does a work of imaginative fiction require steady work both at times of inspiration and otherwise.

Enough with the philosophy-- just trust me that freeing yourself to think of writing a story as a crafty thing that you'll get better at with practice makes it a lot more fun. And in lieu of a tangible stash of expensive yarn begging to be used, or a holiday or birthday as a gift deadline, NaNoWriMo provides an excellent structure for finishing a writing project.

Preparation:


By the arcane and wonderful rules of NaNoWriMo, everyone must start with a word count of zero, and not begin writing before the stroke of midnight rings on November first. However, this does not mean that preparation is forbidden. While it is utterly acceptable to start totally off the cuff on November first (or even November 7th) and go from there, many people do prepare outlines and notes so as not to run screaming in terror away from an utterly blank page on day one.

I decided to approach my story a bit like an imaginative term paper. I was very comfortable writing papers in college-- research, note cards, outline, topic sentences and boom, a paper was written. It was like a little assembly line. Imagine my thrill at finding a resource online that actually showed how to put together a novel using notecards! My choice for writing my story was to loosely follow Holly Lisle's wonderful advice. Other people feel deeply about the Snowflake Method. And still others have their own way of unravelling a little length of plot to follow when they start writing. The key is that if you feel uncomfortable freestyling, it is helpful to write yourself a pattern for where you want your story to go.

You can also allow your characters to be your starting point by writing character studies, then setting them all loose together somewhere and seeing what happens. This is also a great time to follow the train of "what ifs" that go through your mind when you read an interesting article in a magazine, hear a song that touches you, or see a work of art that suggests a story.

Staying Motivated:
So, you have your outline, or notes, or character studies, or courage to just wing it-- how do you manage to sit yourself down and write every day? Another great thing about NaNoWriMo is that it is a community where people share their joys and woes and wordcounts. This can be both inspiring and daunting, so I recommend making sure you have a real-life support system too. I recruited my friend Jen to join me in the NaNoWriMo adventure. She is a professional writer who writes fiction on her own time, so she signed right up. We agreed to try to write together as often as possible, and to check in with each other once daily to keep ourselves honest and on track. My fiance is also a great motivational coach. Once I told him what I was going to do, his eyes got very big and he said "That's a lot of words." But he knew I was serious, and so has dedicated himself to asking me about my word count every day, and encouraging me to sit down and write when I might be procrastinating just a little bit. He is also fully supportive of ordering out for dinner in order to save time.

Jen and I also decided to get involved in our local NaNo community, so we went to the Bay Area Kickoff Party on October 20. They gave us all NaNoWriMo buttons and nametags where we filled in our name, our genre and the title of our soon-to-be novel if we had one. Jen wore and showed hers off proudly:


We spent a bit more time socializing with each other than meeting other writers, but the atmosphere was inspiring and festive, with balloons on the stage spelling out 50,000: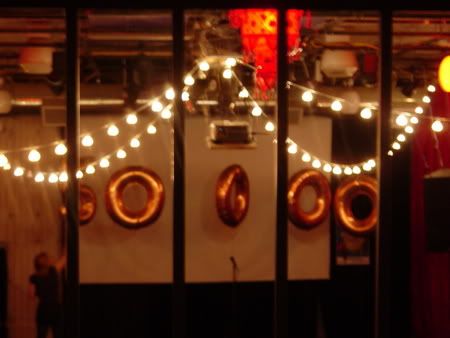 and soon to be 2005 NaNovelists using their NaNoWriMo buttons to spread the word: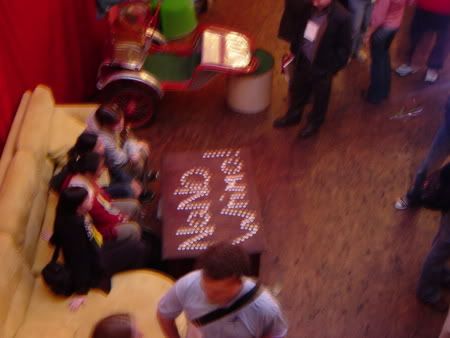 And NaNoWriMo founder, Chris Baty, was also on hand to give a touching speech about how amazed he has been at the popularity of such a wacky endeavor, and the potential that he has seen NaNoWriMo unlock.

Once November first came around, Jen and I were ready-- prepared to stay on a steady pace of 1700 words a day to hit 50,000 by the end of the month. We met for lunch on November 2 to write quietly, and went to a NaNoWriMo write-in at a local cafe after work on November 3. I've written at the coffee place before work, and on the bus on my way home, then typed it all into Word and obsessively hit "tools" and "word count" to see where I was.

I wish I could take you through the whole triumphant month, but my novel, and my word count, are still works in progress. What I can tell you is that so far I've been thrilled at what my characters will do, or what will come to me when I wrack my brains for "what happens next." Even when I sit down not wanting to write at all or feeling totally uninspired, I somehow get through it because I believe that I can. You can start on NaNoWriMo today and write to catch up, or you can start your own Writing Month with friends in December, or January, or May-- the main thing is to free yourself of fears or expectations and get writing the way you get crafting.

Short list of Resources:
No Plot, No Problem- NaNoWriMo founder Chris Baty's book on how to tackle 30-day novel writing
Forward Motion A community of writers
Seventh Sanctum A random plot and everything else generator for inspiration when you just can't think of ANYTHING.
A very scientific progress tracker
Lulu: A place to self-publish your book when it is done.

Nancy Flynn is a dilettante crafter who lives in San Francisco with her fiance. At this writing her word count is 10,380.





permalink | comments(8)
The Dilettante Crafter Goes Gocco
Friday October 07th, 2005 02:06 AM
by Nancy Flynn



The crafty gadget that most intrigued and confused me when I came across it in the DIY blogosphere was the Gocco. People seemed to do wonderful things with it, but I had a hard time understanding what it was and how it worked. Despite the shroud of mystery, I decided to go ahead and get myself one for my birthday this past June, complete with an instructional book the size of a hefty trade novel. I got started the moment it came and was thrilled with the results. I am still a beginner, but for those thinking about putting a Gocco on their holiday wish-list, allow me to share what I have learned so far. Everything below is specific to the model of Gocco I own, the smallest and most economical, the B6. I bought mine from Think Ink but you can find a state-by-state listing of Gocco dealers at the official Gocco Site. First I'll describe how it works, then follow with a little pictorial to show you how I Goccoed my holiday cards.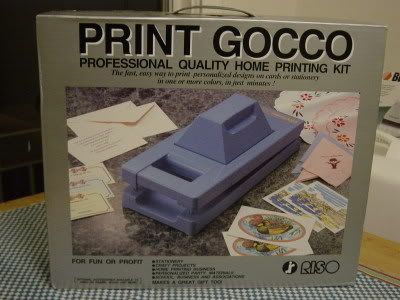 Gocco Basics
Pronunciation: I was pronouncing it "gawk-o", but learned at my local Paper Source that it is actually "go co" like "loco", hence their "Loco for Gocco" class. Which, incidentally, I haven't taken despite my good intentions to let the professionals teach me how to make the most out of this little machine.

What it does: It is a mini screen printer. The B6 model can print images just up to 4"x6". The Gocco uses high-heat bulbs to burn a carbon-based image (aka a photocopy made on a machine using carbon toner) onto a small, disposable screen. Once the screen is burned, you apply ink in your choice of colors and then re-insert the screen into the Gocco for printing. There is a sticky pad where you place the item to be printed (so it doesn't stick to the screen), then press down on the top of the Gocco to apply the inked screen to your item. When you lift the top, your lovely printed image is revealed! Easy as can be.

What you need:
*Photocopied image—you can draw your image, collage it, use rubber stamps, put it together on the computer, whatever you like, then photocopy it at on a black and white copy machine. They also sell special carbon-ink pens that you can draw with on regular paper and use directly without photocopying first.
*4x6 card-stock or 4x6 piles of paper/envelopes- the smoother the stock, the better if you want a precise image with fine lines.
*Printer, Gocco ink, screen.

Limitations:
*Multiple Colors
It is possible to print multiple colors, but only if they are far enough apart to apply "ink block" a sticky foam, between the different colored areas. Another option is to make separate screens for each color and wait for the first printings to dry before printing additional colors.

*Fabric printing
In my experience Gocco works best on fabric if you cut patches of flat, smooth fabric like muslin for printing. I purchased the special fabric-printing stamp kit and have not been satisfied with the results on t-shirt or ribbed tank materials. I was so disappointed with my first few tries printing on fabric that I put the Gocco away for awhile, but I plan to experiment with different kinds of scrap fabric to see what else it can do. I've seen great results other people have had with wool felt as well.

*Screen re-use
They will tell you that the screens can be re-used either by cleaning or storing in the refrigerator. My experience is that it is much more trouble than it is is worth—you will end up with ink all over you, and a screen that may not work when you try it again. Different people have had mixed success, so I wouldn't completely discourage trying to save them. Just be aware that it is best to make as many prints as possible with your first inking in case cleaning/storage is unsuccessful.

Ready to see it all in action? Ok. I decided that since I've got the Gocco, and it works so beautifully on paper, I would use it to make my holiday cards.

Step one: Prepare image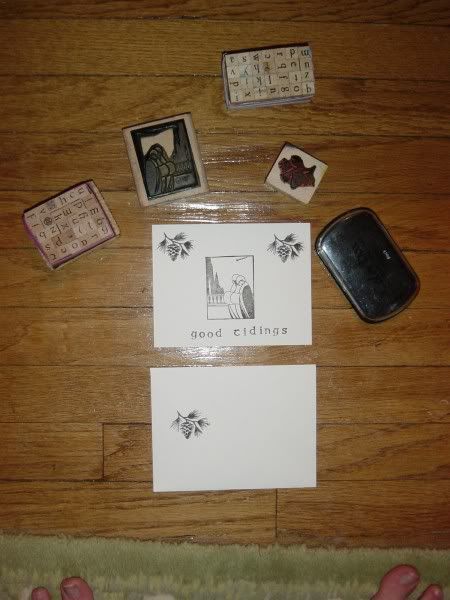 Since I am not a great artist of anything other than stick figures, I put together my card using seasonal rubber stamps. I also used a rubber stamp alphabet to write my holiday message. You can certainly format it all on a computer, using clip art and your favorite font to write whatever you like.

Here are my card and envelope, ready to be photocopied: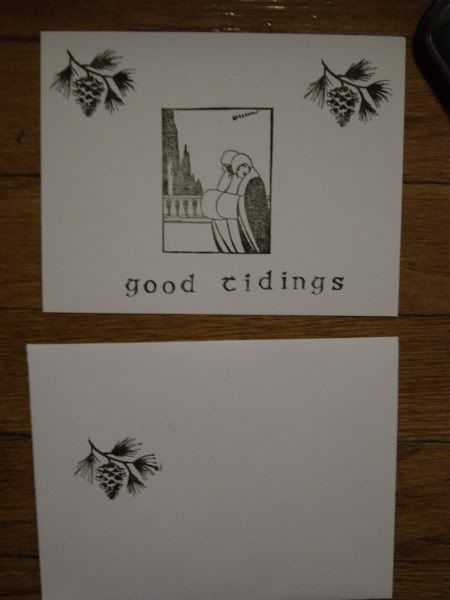 Once you've photocopied your image, cut it back down to the size of your card. Now, you're ready to Gocco.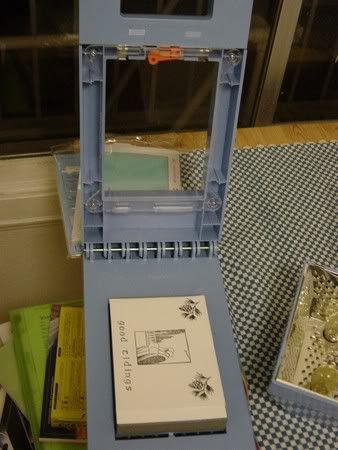 Place a piece of plain paper on the sticky pad, and position your copy on top of it (in this case, you want it to stick to the screen and not the sticky pad).

Grab your "print master", a.k.a. screen: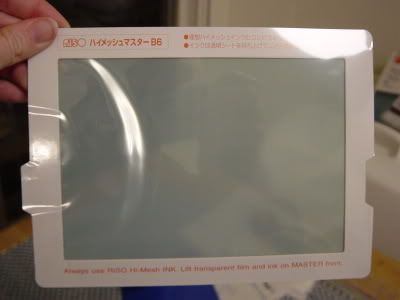 Place print master in top of Gocco: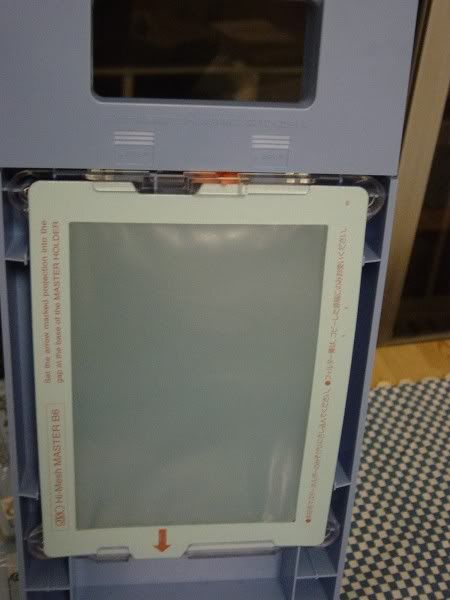 When you close the top, you'll be able to see your image through the little "window." This same window is where you will place the high heat lamp, whose bulbs will burn the image onto the screen in a single flash: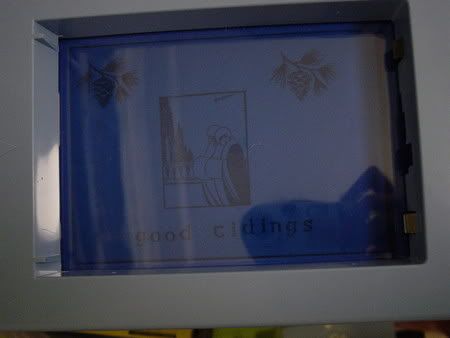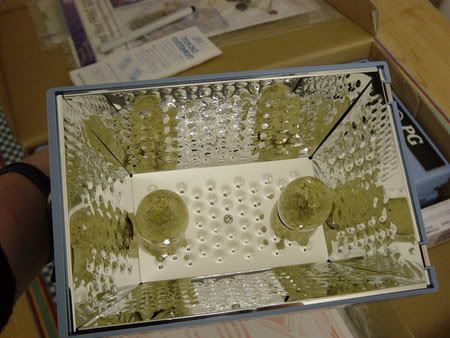 Place lamp over "window" and press top down until you hear and see the flash: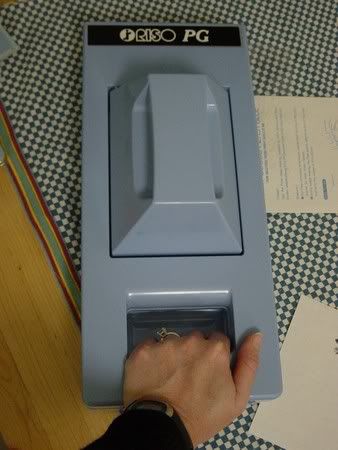 Remove the lamp from the top of the Gocco (don't touch the bulbs! they are very hot) and set it aside. When you lift the lid, you'll notice that your paper image will be stuck to the screen. Peel it away and you'll see your image burned onto the screen: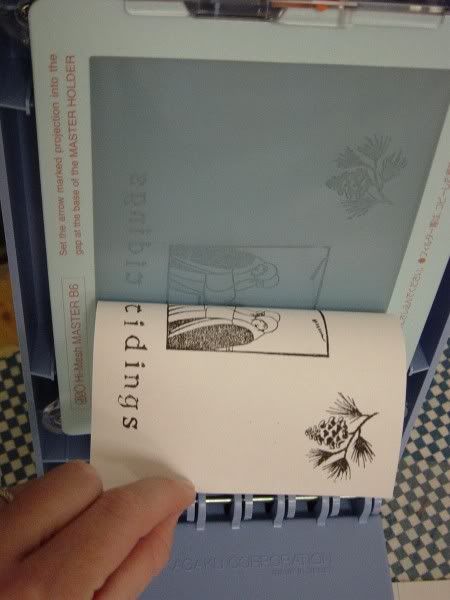 Remove the screen from the window, and pull back the cellophane cover to get it ready for inking. Since I want to use three different colors, I'll put on some of the neat, foamy "ink block" that came with the Gocco to keep colors separate: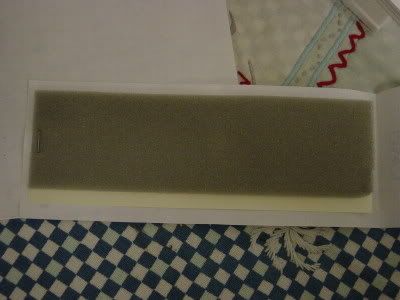 ink block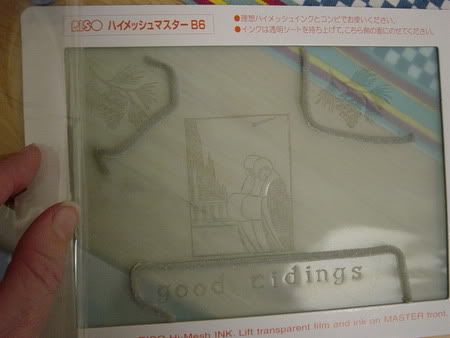 image all blocked out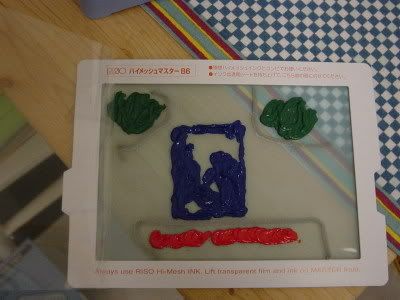 Image inked in the three different colors I chose.

Once your image is inked as you like, replace the cellophane cover over the ink, and place the screen back in the top of the Gocco: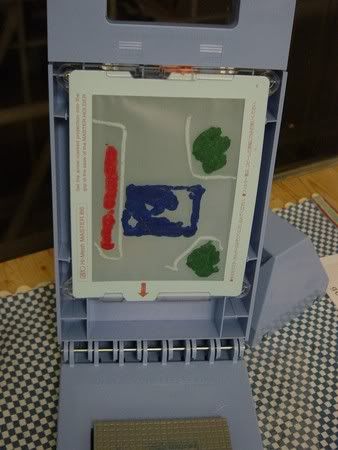 Place your card directly on the sticky pad, positioning it as you want the image to appear: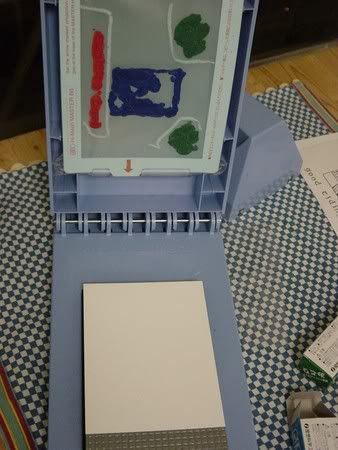 Press the top of the Gocco down firmly to ink the image onto the card: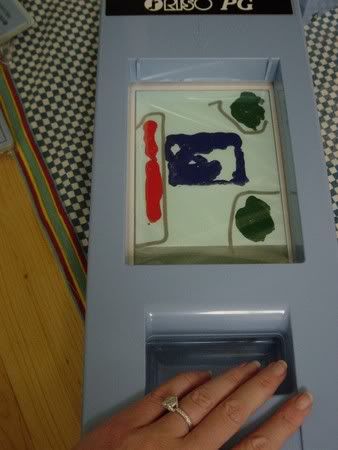 Lift it up to see your lovely card!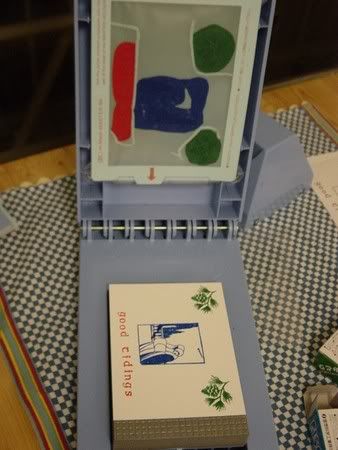 Repeat the last three steps until you've made as many cards as you like. If any parts of the image become a bit faint, re-ink that portion of the screen and keep going. When you're done, you should have something like this: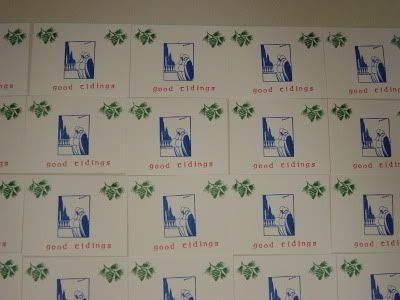 I also went on to make a holiday envelope to go with the cards, so thanks to the magic of the Gocco, my final holiday card set looks like this: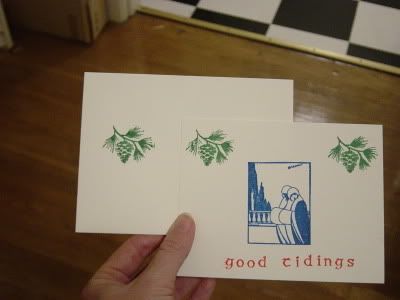 I hope this has demystified the Gocco for you a bit. If you have any questions, please comment or pm me and I'll answer to the best of my dilettante ability!




permalink | comments(20)