The Dilettante Crafter Goes Gocco
Friday October 07th, 2005 02:06 AM
by Nancy Flynn



The crafty gadget that most intrigued and confused me when I came across it in the DIY blogosphere was the Gocco. People seemed to do wonderful things with it, but I had a hard time understanding what it was and how it worked. Despite the shroud of mystery, I decided to go ahead and get myself one for my birthday this past June, complete with an instructional book the size of a hefty trade novel. I got started the moment it came and was thrilled with the results. I am still a beginner, but for those thinking about putting a Gocco on their holiday wish-list, allow me to share what I have learned so far. Everything below is specific to the model of Gocco I own, the smallest and most economical, the B6. I bought mine from Think Ink but you can find a state-by-state listing of Gocco dealers at the official Gocco Site. First I'll describe how it works, then follow with a little pictorial to show you how I Goccoed my holiday cards.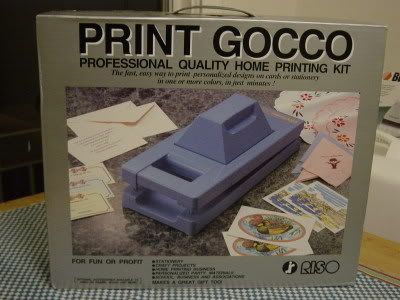 Gocco Basics
Pronunciation: I was pronouncing it "gawk-o", but learned at my local Paper Source that it is actually "go co" like "loco", hence their "Loco for Gocco" class. Which, incidentally, I haven't taken despite my good intentions to let the professionals teach me how to make the most out of this little machine.

What it does: It is a mini screen printer. The B6 model can print images just up to 4"x6". The Gocco uses high-heat bulbs to burn a carbon-based image (aka a photocopy made on a machine using carbon toner) onto a small, disposable screen. Once the screen is burned, you apply ink in your choice of colors and then re-insert the screen into the Gocco for printing. There is a sticky pad where you place the item to be printed (so it doesn't stick to the screen), then press down on the top of the Gocco to apply the inked screen to your item. When you lift the top, your lovely printed image is revealed! Easy as can be.

What you need:
*Photocopied image—you can draw your image, collage it, use rubber stamps, put it together on the computer, whatever you like, then photocopy it at on a black and white copy machine. They also sell special carbon-ink pens that you can draw with on regular paper and use directly without photocopying first.
*4x6 card-stock or 4x6 piles of paper/envelopes- the smoother the stock, the better if you want a precise image with fine lines.
*Printer, Gocco ink, screen.

Limitations:
*Multiple Colors
It is possible to print multiple colors, but only if they are far enough apart to apply "ink block" a sticky foam, between the different colored areas. Another option is to make separate screens for each color and wait for the first printings to dry before printing additional colors.

*Fabric printing
In my experience Gocco works best on fabric if you cut patches of flat, smooth fabric like muslin for printing. I purchased the special fabric-printing stamp kit and have not been satisfied with the results on t-shirt or ribbed tank materials. I was so disappointed with my first few tries printing on fabric that I put the Gocco away for awhile, but I plan to experiment with different kinds of scrap fabric to see what else it can do. I've seen great results other people have had with wool felt as well.

*Screen re-use
They will tell you that the screens can be re-used either by cleaning or storing in the refrigerator. My experience is that it is much more trouble than it is is worth—you will end up with ink all over you, and a screen that may not work when you try it again. Different people have had mixed success, so I wouldn't completely discourage trying to save them. Just be aware that it is best to make as many prints as possible with your first inking in case cleaning/storage is unsuccessful.

Ready to see it all in action? Ok. I decided that since I've got the Gocco, and it works so beautifully on paper, I would use it to make my holiday cards.

Step one: Prepare image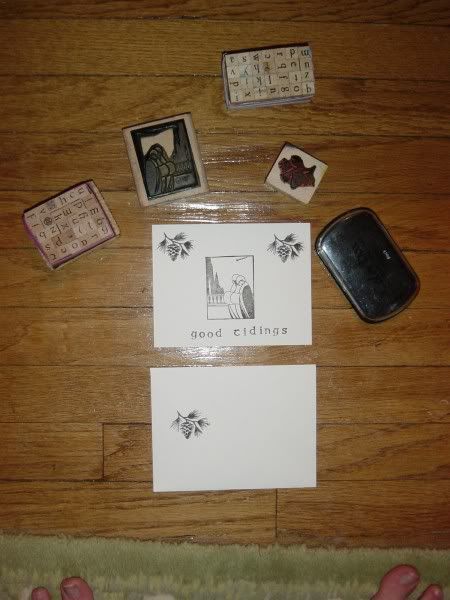 Since I am not a great artist of anything other than stick figures, I put together my card using seasonal rubber stamps. I also used a rubber stamp alphabet to write my holiday message. You can certainly format it all on a computer, using clip art and your favorite font to write whatever you like.

Here are my card and envelope, ready to be photocopied: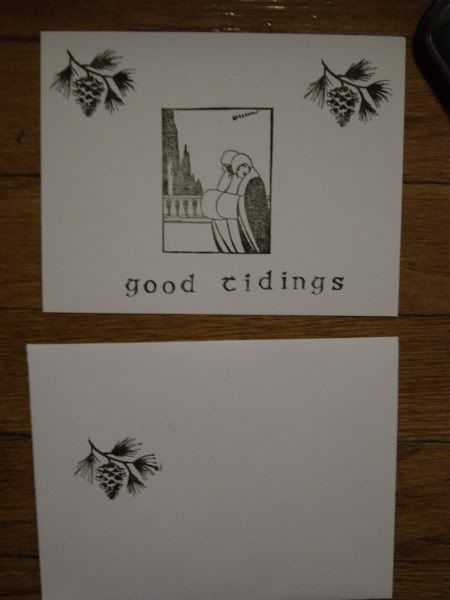 Once you've photocopied your image, cut it back down to the size of your card. Now, you're ready to Gocco.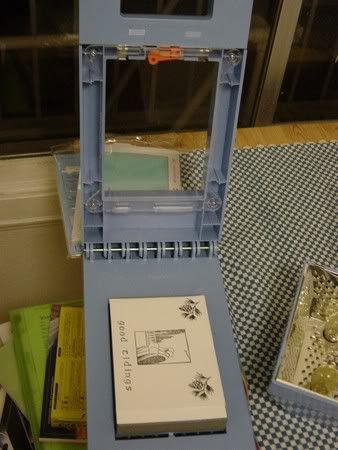 Place a piece of plain paper on the sticky pad, and position your copy on top of it (in this case, you want it to stick to the screen and not the sticky pad).

Grab your "print master", a.k.a. screen: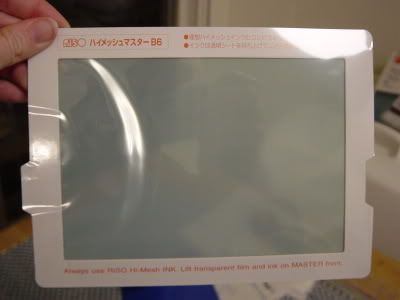 Place print master in top of Gocco: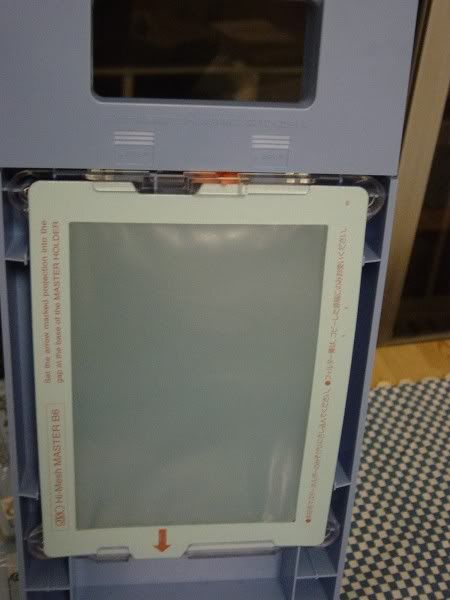 When you close the top, you'll be able to see your image through the little "window." This same window is where you will place the high heat lamp, whose bulbs will burn the image onto the screen in a single flash: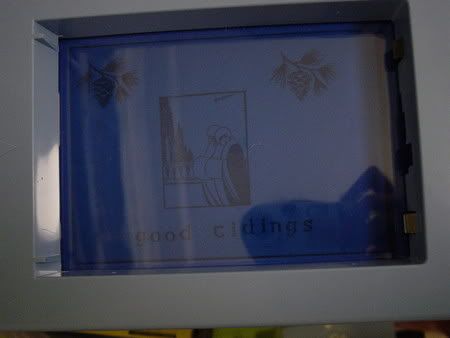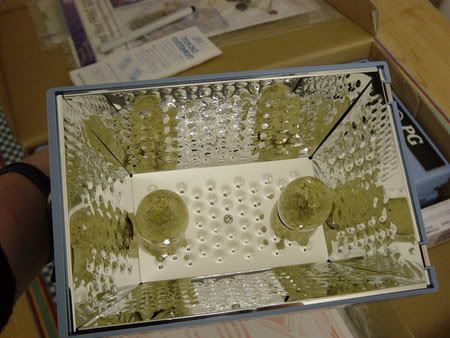 Place lamp over "window" and press top down until you hear and see the flash: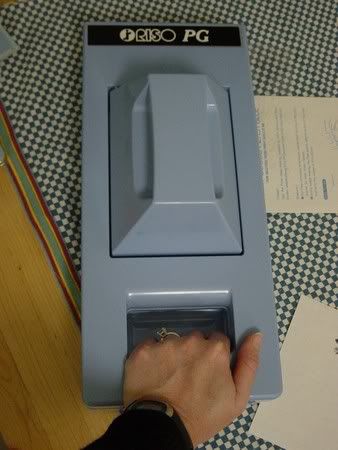 Remove the lamp from the top of the Gocco (don't touch the bulbs! they are very hot) and set it aside. When you lift the lid, you'll notice that your paper image will be stuck to the screen. Peel it away and you'll see your image burned onto the screen: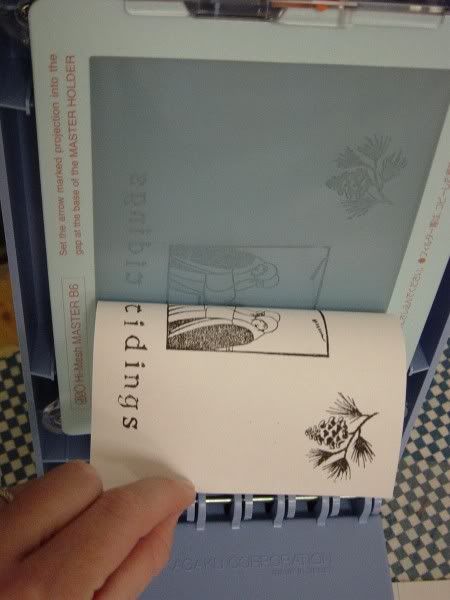 Remove the screen from the window, and pull back the cellophane cover to get it ready for inking. Since I want to use three different colors, I'll put on some of the neat, foamy "ink block" that came with the Gocco to keep colors separate: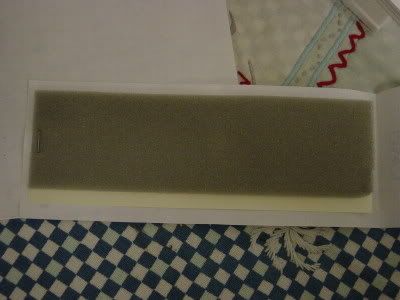 ink block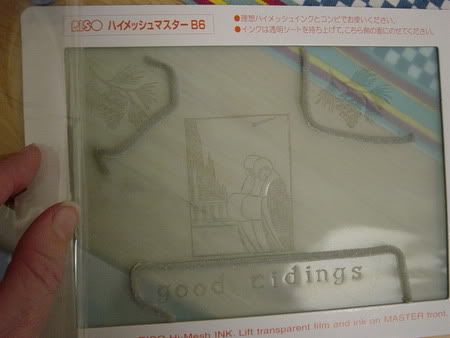 image all blocked out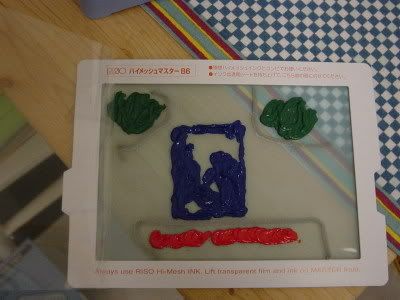 Image inked in the three different colors I chose.

Once your image is inked as you like, replace the cellophane cover over the ink, and place the screen back in the top of the Gocco: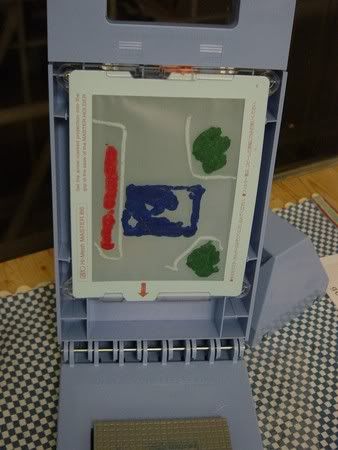 Place your card directly on the sticky pad, positioning it as you want the image to appear: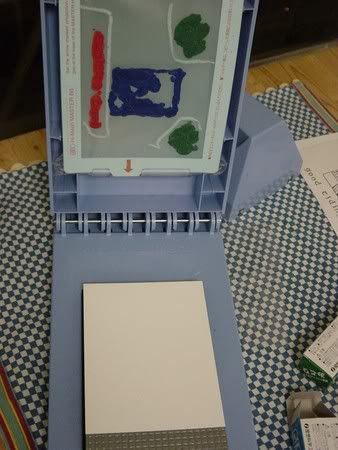 Press the top of the Gocco down firmly to ink the image onto the card: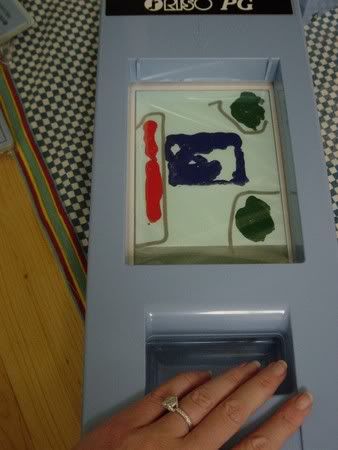 Lift it up to see your lovely card!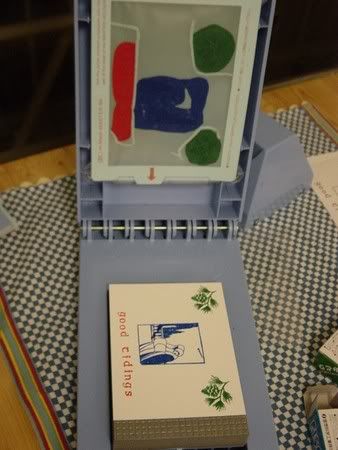 Repeat the last three steps until you've made as many cards as you like. If any parts of the image become a bit faint, re-ink that portion of the screen and keep going. When you're done, you should have something like this: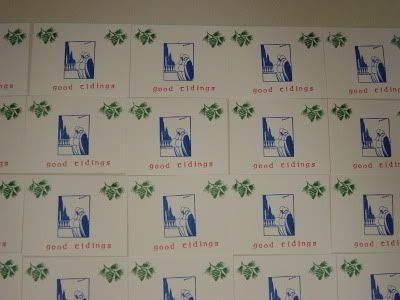 I also went on to make a holiday envelope to go with the cards, so thanks to the magic of the Gocco, my final holiday card set looks like this: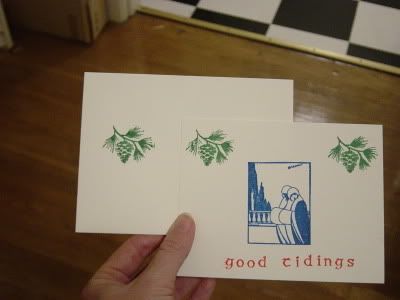 I hope this has demystified the Gocco for you a bit. If you have any questions, please comment or pm me and I'll answer to the best of my dilettante ability!




permalink | comments (20)
Thank you so much for taking the time to put this together. You card is beautiful and I'm sure you'll be proud to send it out. I got got a gocco and have used it once, loved it but haven't busted it out since. You've inspired me to dust it off and try again. I might try that "loco for gocco" course too! Great job!
Cool! Thanks for the instructions & the pictures.
I got mine on e-bay from a guy who has them up pretty regularly for a good price, he also has supplies. I haven't used mine yet as I've been working on other things, but your instructions are great. (Have you seeen the super cheesy instructional video? I couldn't stop laughing at the music) Too bad it doesn't seem to work on fabric? I got that stamp too, I'll be interested in hearing how your fabric experiments go.
this is great! i've always wondered what a gocco was and why everyone was having so much fun with it. i guess it's going on my christmas list, too.
Ohhh that is so much easier than futzing arround with my big screens I use for making t-shirts!

Didn't they come out with some sort of adaptor for screening onto material? Or is this just wish full thinking?
That is the coolest little gadget! I've been wanting to try one out too. What price range are we talkin'?
they're about 125-150...i bought mine to make my wedding invitations, and love it. i strongly recommend ThinkInk's Gocco Guide, it made the whole process a lot less frustrating.
Knitmum-- yes, they have a little "stamp kit for fabric", which I bought. I haven't been wild about it, but I think I might not have given it a good enough try-- I'll do a little follow-up if I can get it to work properly! From what I can tell, the fabric is best off not being too stretchy or textured if you want a "true" image. But I am going to try again!

Sewlittletime--At ThinkInk (where I got mine), it is currently $139.00, you might get it somewhere like Pearl Arts & Crafts at a bit of a better discount too. I get my supplies by mail from Welsh Products: http://www.welshproducts.com/printgocco/printgocco_supplies.htm and it looks like they have the B6 for $115. Their supplies are very reasonable too, and come quickly (could be because I am also in California and not far away!).
That was so kind and wonderful of you to do the full-on tutorial. Thank you so much! I've been fearful of messing up and still hadn't opened the Gocco my dear husband gave me 2 Christmases ago. I'm going to open it today...and Knitmum, there IS a fabric adapter. My husband got me that too. (I think he got the goodies at Blick).
So much genius. Amazing!
wow! thanks for sharing. i've been seeing things made out of it and have wondered about it.
i would like to get one (eventually). maybe after i learn how to sew =)
(my class is tomorrow).
thank you for the tute! i know what i want for my birthday... !
Excellent! Thanks so much for the price info and tutorial!
Nice toes! Nice ring!
Another great Gocco tutorial (which was around but I don't remember seeing on Google when I got my Gocco) is here on The Small Object:
http://www.thesmallobject.com/tutorials/GoccoTutorial.html
I'd like to try to use mine to make tea towels for gifts, but I haven't gone loco for my Gocco, but this tutorial might inspire me!
Hey! Yay for Gocco. I recently invested in a new one (the one I'd had before had endured 10 years of use, moves, kids, and not being stored properly!) and have just started making up my cards for Cupcake.
Lovely! Thank you for your wonderful explanations. I don't stamp or do screenprinting though- I'm confused, how is this different from just stamping your cards?
Hi, nice tutorial, but there is one thing that is VERY important, that you left out:
When burning a screen from a photocopy (not with a carbon pen), you MUST use the blue filter included with the print gocco behind the screen (between the cellophane and the plastic window). If you do not use this, you will likely have some paper nicely sticking to the screen, blocking the ink. The picture in the tutorial shows the blue filter in there, but there is no mention of it, so I just wanted to make it clear.

Also on a more minor note, it is suggested (by the almighty gocco makers) to actually not peel off the original (photocopy) from the burned screen until after you put the ink on it. This doesn't really have any effect either way, except for the fact that if you peel off the paper first, you then have to lay the screen on another paper while applying ink. This is fine, except if you mess up a little, you might smear ink on the bottom side of the screen (bad!), because some ink goes through onto the paper underneath--thus if you slide the screen around you will get ink in unwanted places.

And one more thing, I have had a lot of success (unlike the author of this tutorial) printing on t-shirts with the print gocco stamp ink fabric kit (or whatever their wacky name for it is). If you aren't already doing this, I highly suggest putting the shirt onto a strong piece of cardboard, and either taping/clipping the back side so that the front is taut against the board when you print, or coating the board with a spray adhesive (the kind that lets you easily remove something), which would allow you to have the shirt stick taut to the board. Either way, since t-shirts are made out of such a soft material, you want to make sure it is taut.
Hi!

Can you print on a larger piece of paper - can paper hang out the sides of the machine? or will it get creased or marker or is this not really possible at all?
You must log in to post comments.