anybody know how to use this thing?
Saturday June 11th, 2005 09:31 PM
i can't remember how to use this....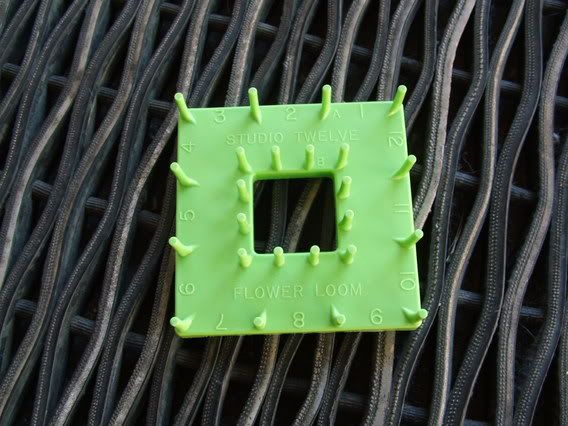 found it in a box of stuff from when i was a kid, along with a 321 contact magazine and some fourth grade vocabulary worksheets. i remember making a scarf for my teacher and never touched the thing again. there's been a thread going for a long time in the forums but nobody has posted any instructions. the only place online i have found offering instructions wants $3.00 for a copy of them.... yeah, right! or if you have something made with one of these that i could see a picture of and figure it out again - i don't even remember what the finished product looks like.


permalink | comments (11)
I'm both mystified and curious... Why don't you send it to me, along with $3 and I will figure it out and send it back?! (kidding of course...) I have the perfect green and pink yarns to make flowers from...
I remember the infomercial for those things! They made neato 'daisies', but I never got to try one. :(
so the only free "instructions" i saw online said to loop yarn around each outer peg three times, then cut off and stick in the notch in the back. then do the same wrap three times around the center pegs, ending with the yarn in the center hole. OKAAAYYYY. then what?!? no pictures were up or anything so i don't even remember what the things look like. obviously it had to be pretty easy if i was able to make enough to make a scarf out of them when i was in fourth grade....
If you can't figure it out, it would make a really cool frame to put a cute photo of the kiddos in!!!
I don't know for sure either. I did see IndiaRomeo use one on crafters coast to coast. Makes very cute flowers!

How cool you found it in a box of your old stuff. It would be fun to look through the 321 Contact magazine! I used to love that!!
girlsavage - were they the flowers like her brooches? for some reason i remember these being more of a granny square-type thing.... but i could be wrong. seems like those she made would be more likely a product of the circular loom. it seems like i remember a finished edge.....
i've never seen it but i could guess for you... this would be a fun forum idea to put up long lost supplies and tools and get people to make up ideas for how to use them- we could come up with some fun totally new ways to use them!
it looks like it would make a flower very much like a pompom- you'd have to wrap one loop around the center pegs as you wrap rings across, and then pull it tight when you take it off... at least that's what i think your instructions might be talking about ??
canyou post the link to the free description?

erin: http://neighborhoodvalues.com/forums/I'm_Looking_for/posts/3191.html
is where i found some cryptic instructions. looking at some that i think were made on a circular loom, i think i'm getting a grasp at what the finished product would look like. going to mess around with it tonite and see if i can come up with anything. there's ctually a thread that's been going for a while that someone else had started before i found mine. but it was in 'craft up,' though, so perhaps it didn't hit the right demographic because it didn't get many replies so i decided to try it here with a visual aid!

okay. figured it out. just took LOOKING at one to get it.
not thrilled with the square shape. guess it's a good shape if you want to make something with them as opposed to just an accent flower. it was fun but as of now, haven't gotten a post-worthy product. will definitely be looking for a round one now.
Aw, I used to get 3-2-1 Contact magazine, too.

I now have the 3-2-1 Contact theme song in my head. Not a bad thing!
http://getcrafty.com/viewtopic.php?t=4926

I've posted instructions there if you still want them. P.S. round ones are superior!
You must log in to post comments.