Moving
Friday November 30th, 2007 01:52 AM
I really like the homey environment here at getcrafty, but I keep feeling that the blogs here are not quite as versatile as I would like mine to be...

So I will be blogging from here in the near future. I hope to see you there, and in any case , I just wanted you to know that I appreciate your readership.


permalink | comments(0)
You know you want it...
Monday November 26th, 2007 05:01 AM
Ok. A ton of projects.
First of all a sampling of the stuff I am more proud of from the Fall Discworld swap on Craftster: Dwarf bread (sorry for the bad picture), a Perdita bracelet, and an Igor with detachable limbs. I made some other stuff, too, but these I'm particularly pleased with.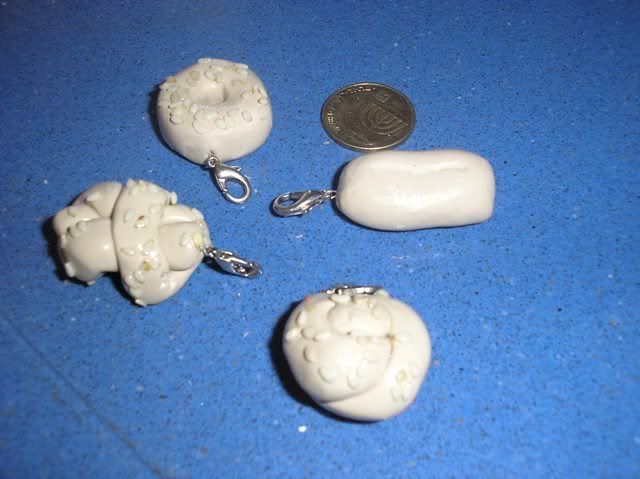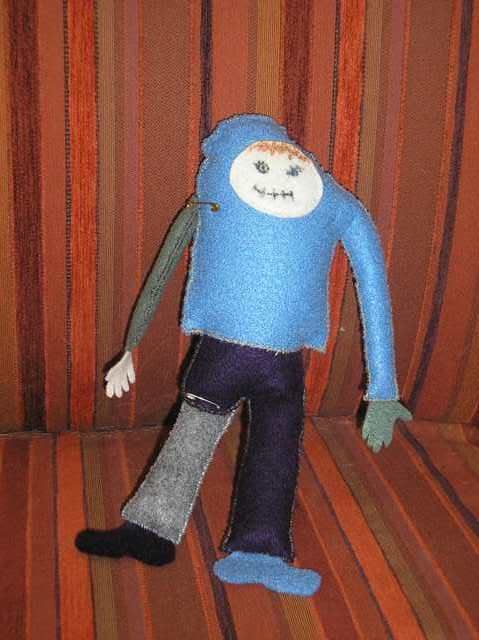 I also finished the moebius and am so pleased with it. Thank you Jack for modeling:



And now for what's on the needles:
I finally started the EZ Baby Surprise Jacket for Neta, using the beautiful handdyed I received from mandalinn in the Hello Kitty swap. I'll be supplementing the yarn with some of my own handdyed (just getting into that now) so I don't run out.


I'm also making another moebius thingy - this time it will be a quiver.


And my favorite current WIP is this wall hanging I am making for my Mom's SO. Guess which song I am quoting?



And there's more. As I said, I've started fooling around with dyeing lately. Good grief, there's another expensive addiction I will have to figure out how to finance, though I have already been commissioned to dye enough wool for a vest by MIL's cousin. Silly DH interjected that he prefers being paid for my services with gefilte fish, so I won't be seeing more than the cost of materials for this one... I'll be posting my adventures in the land of colors some other time - Yiftah just woke up after a whole 15 minutes of sleep.


permalink | comments(1)
Happy Thanksgiving!
Thursday November 22nd, 2007 02:21 PM
Even though I've been living in Israel for 20 years now, I still have a soft spot for Thanksgiving. It's not about pilgrims, the Mayflower, or Plymouth Rock for me. It's about a togetherness that I miss, it's about taking a moment to remember all that we have to be thankful for in our lives. Maybe a teeny tiny part of me misses the Americana of Thanksgiving - but then the hardened sarcastic Israeli in me takes over and reminds me that Thanksgiving also marks a very dark chapter in human history.
Well, I'm just more into the "reasons to be thankful" bit. So I made an impromptu holiday dinner - turkey legs in cranberry sauce and stuffing, I had to pass on the yams because, as usual, balancing both kids and making dinner was a bit much. Soon I will be having a slice of pumpkin pie that my sister brought over earlier this week.
I won't list it all because it is too much, but I will say that the main thing that I am thankful for is the unfailing love and support I have from my family and close friends. They are always there for me, even when I can't fathom why on earth any of them would want to stick around... Guys, I may not always show it, but I love you so much that when I think of it, I want to cry. You keep me alive and make me want to see what's next. You just make it all so much better.

Now, let me be a tree-hugging hippie for a minute, and take the opportunity to remind you that tomorrow is Buy Nothing Day. Just for one day, let's all do something else. Take a walk. Build something by yourself. Rest.

Have a ton of FOs and WIPs to show off, next post, I promise.


permalink | comments(0)
This is fun
Tuesday November 13th, 2007 06:19 AM
One of my favorite classical pieces ever. You can check for yourself why.




permalink | comments(1)
I got tagged!
Thursday November 08th, 2007 01:52 AM
I got tagged by Claudia.

Rules: List one fact, word or tidbit that is somehow relevant to your life for each letter of your first or middle name. You can theme it to your blog or make it general. Then tag one person for each letter of your name.

Y - yummy. Let's face it. I am a good cook. If I managed to make the delicious spaghetti bolognese I made yesterday in spite of Neta getting on and of the potty and repeatedly wetting the floor and Yiftah just plain howling through the whole thing, I must have some culinary talent in me.
A - airhead. Sometimes I think I was made a brunette by mistake.
E - eccentric. Like yesterday I got into a fight with my hubby defending my right to wear felted wool dreadlocks whenever I want to.
L - love. I want to believe that love is the guiding force in my life. I don't always feel it, but I'm trying very hard.

First four to respond are tagged.


permalink | comments(0)
The Handmade Pledge
Tuesday November 06th, 2007 12:59 PM

Yeah, sure, we don't have the holiday season in Israel.

But I'm taking the pledge in general, not just for the holiday season. With the hopes of becoming a profitable artisan myself, I should aim for karmic retribution by supporting others.
Besides, buying something that is locally made by talented craftspeople helps us protect the environment, by minimizing the resources expended on shipping large quantities of mass produced items, which are most likely never going to rival the handmade gifts in quality, durability, etc.

Gotta go, but I'm so in on this.


permalink | comments(0)
NePoTraMo
Monday November 05th, 2007 02:08 PM
Everybody's got a national something something month going on these days.
NaNoWriMo, NaBloPoMo, NaKniSweMo, to name a few.

Well, I knew I don't have time for any of them even before Neta pulled her diaper off on Saturday and kicked off Neta's Potty Training Month. I hope it doesn't take much more than a month. My neuroses are being pushed to their limits.
The interesting part is that she insists on wearing underpants, but just as adamantly refuses to sit on the potty or the toilet, and will not even just take everything off and take a pish outside. I don't even want to talk about the poop. I am such a brave woman.

Moebius news: I am about halfway through. My heart skipped quite a few beats when one of the Denise cables separated from its plastic connector, dropping about 40 stitches in the process. At this point, Neta learned that mommy's four-letter vocabulary is rather impressive and very colorful. I managed to make a quick save while breastfeeding a post vaccine Yiftah, and finished just in time to intercept another pair of soiled underpants, and perform the "Bye-bye poopy" ceremony while burning a pot of rice (deliberately, or so I say).

Happy MoDroDeaMo (Mommy Drops Dead Month).


permalink | comments(1)
Lessons learned on the moebius
Wednesday October 31st, 2007 12:22 AM
It's only the first half of the first round that's difficult, and I used a size 1 dpn to help me slide the stitches along the left needle.
I've got the most annoying blister on my thumb from it, and my body is all aches and pains (but that's because of last night's intense bellydancing lesson).


permalink | comments(0)
I've always hated math
Tuesday October 30th, 2007 10:09 AM
I've just started knitting the first row of Cat Bordhi's Moebius Scarf.
The cast on is easy enough, but the first round is a pain in the tuchus. Either I cast on too tight, or it just a pain in its own right. I can tell that it will be easy sailing once I complete it, but for the time being my wrists ache, my yarn is starting to felt, and I am very far from the meditative experience that knitting moebii is supposed to be.


Oh, and the skin on my fingers feels like it's about to fall off. Only 350 stitches to go!


permalink | comments(0)
<
>
| | | | | | | |
| --- | --- | --- | --- | --- | --- | --- |
| Su | M | T | W | Th | F | Sa |
| | | | | 1 | 2 | 3 |
| 4 | 5 | 6 | 7 | 8 | 9 | 10 |
| 11 | 12 | | | | | |