Written on May 8, 2005 1:55 PM
If I had even the faintest fondness for patchouli oil, I'm sure that I'd be soaking in it given my recent reading preferences. After a lengthy trip to lands of esoteric fiction, I've found myself deep in book after book about that in-and-out subculture know as Bohemia. Following are snapshots of three of my favorite (and, consequently, recently published) titles:
The Bohemian Manifesto: A Field Guide to Living on the Edge by Laren Stover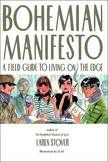 From the gem of a writer who brought us The Bombshell Manual of Style, comes a manifesto for the modern Bohemian that is not only entertaining to read, but a distinct pleasure to look at, ripe with heavy handed illustration and thick, glossy pages. This is a book for the coffee table (made all the more Bohemian if it doubles as a coaster and picks up a ringed coffee or red wine stain). Not as much a manifesto by definition (this isn't in any way motivated by politics or a desire to change the world), but rather a lifestyle guide with principles from Bohemia past, the book is broken apart into broad sections such as Bohemian Psychology, Bohemian Lifestyle, and Bohemian Case Studies. Within these, readers can discover what kind of Bohemian they (or their friends: i.e., fun party reading for the literati) may be: Nouveau, Gypsy, Beat, Zen, or Dandy. There are extensive looks at decorating, food, reading material, art, even choice vehicles and names. Although she includes bits here and there on the history of Bohemia, Stover selected to leave out much of the darker side. As she writes in the introduction, "When a group elects to live on the edge, it's not always pretty, blissful, or ecstatic. I dwell upon the originality, quirks, courage, decorative deviance and exuberance, the aspirational elements of Bohemia unclouded, for the most part, by somber depressions, morbid fantasies and extreme poverty. " Suggestions for reading further on the darker sides of the sub-culture is not included, but Astrology and a neat little quiz finish off the tome that is encapsulated Bohemian itself: oddly attractive, non-sensical, and eccentric to the core.
The Starving Artist's Way: Easy Projects for Low-Budget Living by Nava Lubelski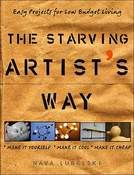 As the subtitle suggests, this is a book crammed full of cheap ways to create, be it food, furniture, or clothing, but what takes it above and beyond the slew of project guides out there is the lifestyle aspect. This is genuinely for starving artists (or those who just like to pretend to be—we all know someone) and contains, along with project instruction, a slew of condensed art history lessons. Learn about Anne Wilson, a contemporary conceptual artist working with textiles, as you learn how to make placemats out of hot glue and magazine pages. Read up on Gustav Klimt while getting gift-wrap ideas, or sculptor and video artist Mike Kelley while attempting to make giant, edible gummy bears. Lubelski has sectioned the book in five main parts: Food, Home Decorating, Wearables, Potions, and Spectular Special Events and Gifts. Within these areas fall a seemingly endless and amazingly varied selection of things to create. Some of my favorites that I've made include the Pomegranate Liqueur (although I don't have the patience to make the juice myself), the Peanut Butter Cube Cups (make sure your PB isn't too runny or the chocolate will never mold around it), the "Seven Years' Bad Luck" Mirror, and the Out-of-Focus Photo Album. A few of the projects are a little too freaky (felt made from wads of pet hair), or aesthetically unpleasing (detergent-Bottle Wall Sconce) for my tastes, but that's one of the great things about the book—there is something for everyone. My only irritation is at the lack of clear images accompanying the projects. Minor illustrations are shown for some of the more intensive projects, but those are few and far between.
Still, this would be a fantastic addition to any bohemian library.
And last, but certainly not least, comes a little real-life inspiration…
Holy Skirts by René Steinke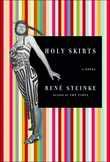 The Baroness Elsa von Freytag-Loringhoven was an original in every sense of the word. Fleeing her oppressive father and family in Germany, she wound up becoming a sensation in the New York Dada art scene. A poet, nude model, and crafty lady, she wandered Greenwich Village in the early twentieth century wearing such fantastical creations as a bra made from tin cans, a bustle complete with flashing taillight, and my personal favorite, a birdcage necklace—housing a live bird, of course.
What Steinke has done is taken the world of the baroness a step further, playing with the facts of her incredible life to create a novel rich with her loves, tragedies, and accomplishments. She comes to life on these pages, and I read having to remind myself that not every word was true (Steinke ends the book with an author's note that offers some insight into her changes, as well as suggestions for further factual reading). Holy Skirts was what I consider a perfect "beach read" (I don't read chick lit or mass market thrillers, nor do I go lay on the beach, but if I did…), a literate-lite, engrossing, sometimes sad, and often inspiring story about a woman who lived and loved with an enthusiasm bordering at times on insanity.
(FYI: René is the cousin of another fantastic female writer, Darcy Steinke)
All available at amazon.com