| | |
| --- | --- |
| Bookish: Inspiration is 1% Perspiration. By Jessica Reed | comments (2) |
Written on August 15, 2005 12:18 PM
The perspiration required to lift a book, that is.
I have a love-hate relationship with the inspirational sort of books written for the creatively stalled. Not that I donít own a whole slew of them, titles filled with stories, project jump-starts, and exercises meant to unclog the tunnels of the right brain, but I donít read them very often as I sometimes find them, well, a little too inspirational. Too happy. Weird, I know, given that I did buy them for that purpose in the first place.
As someone who, among other things, writes, takes photographs, etches glass, bakes, embroiders, knits and tries really hard to sew a straight line, inspiration for me tends to come from other sorts of books. Stories and images that are so well-crafted, creative, dark or funny, or often just plain brilliant, that I feel compelled to create something of my own. Now, given how obsessively I read, I happen to come across quite a few books that inspire me in some way, but I do have my old-faithfuls, titles that I read and look at over and over again. That said, I thought Iíd offer you a few suggestions for books that donít tell how to be creative, but rather show what creativity can do.
Coraline by Neil Gaiman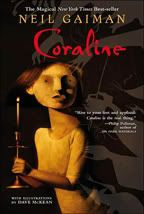 I would recommend anything and everything by Mr. Gaiman, as I think he produces fantastic work all around, but this slim volume written for children is one of my favorites, and always leaves me wanting to make strange things with buttons.
Confessions of a Window Dresser by Simon Doonan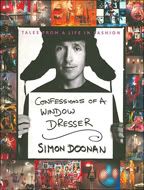 Last month I wrote a small bit on his latest book, Nasty, but itís his first memoirish tome that I keep by my worktable at all times. The images of his weird and wonderful window displays are enough to make me want to do something crazy. Crafty-crazy, of course.
How to Eat by Nigella Lawson



I usually avoid cookbooks without lovely, glossy pictures because I really like to see what the things that I cook should look like as opposed to how they tend to look when Iím at the stove, but I make an exception for this book. Recipes in general inspire me, (And not just to cook. The ideas for some of my better photographs came to me while reading cookbooks.) but there is something extra about a Nigella Lawson bookóshe can write. Absurdly well.
Twilight by Gregory Crewdson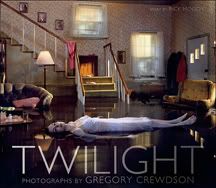 Crewdson takes elaborately staged, cinematic shots that are beautifully composed and intensely strange. Each image strikes me as one piece of dozens of possible stories. I also like to read about his process for setting up the shots, and the lengths that he goes to in order to produce such surreal work (Oh, to have a large budget). This is a book I turn to again and again.
The Devilís Dictionary by Ambrose Bierce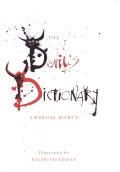 I love reference books, but I especially love ones where the author has taken liberty with accepted truth. This is a cynics dictionary, filled with witty, acid definitions like "Famous: Conspicuously miserable," and "Craft: A Foolís substitute for brains." I like to grab this book, close my eyes, open to a random page and point my finger at a word, then use it to try and jump-start a current project. Usually it just jump-starts a new one, but at least it helps me do something...
...Like in this case, I happened upon his definition for "Friendship: A ship big enough to carry two in fair weather, but only one in foul." Idea! Figuring that my friends were an untapped resource for alternative inspirational reading material, I chatted up a few of the crafty, creative ones to see which books they rely on for a kick in the creative bum.
Betsy, a writer and artist whose mildly obsessed with paint-by-number these days, reads Agatha Christieís Miss Marple mysteries.
Brian, a photographer, likes ďany and allĒ graphic novels. I tried to get him to elaborate, but he just ignored me.
Erin, an compulsive entertainer, gets ideas for her many themed dinner parties from biographies, but turns again and again to The Sisters: The Saga of the Mitford Family by Mary S. Lovell.
Kate, who designs clothing and jewelry, loves to look at books that showcase the work of graphic designer Paul Rand.
Robert, an illustrator and silk screener, canít get enough of Edward Gorey, particularly Amphigorey and Amphigorey Too.
Ah, Edward Gorey. It really is hard to go wrong with him as inspiration.
On that note, enjoy looking for inspiration beyond the usual suspects, whatever your ďfoolís substitute for brainsĒ may be.
Jessica Reed is a writer, artist, and bibliomaniac. She spends her days working in publishing, her nights working on her MLS, and her late nights passed out in her Brooklyn apartment. She wishes she had more time.