Written on September 12, 2005 9:44 AM
It appears that, due to a particularly sweltering August, I have lost part of my brain to melting. That said, please be advised that this month's Bookish will be little more than a very detailed list. I couldn't even muster a theme! But, dear readers, cooler weather is upon us and, with plenty of holidays just around the corner to provide any number of concrete ideas, there is hope for a full recovery. With that…
Bookish, lite.
Banned Books week is September 24-October 1. Sadly, this is still a huge issue, and it is up to us to make sure that the freedom to read and write what we please stay available to us, especially in times such as these. Most of us know that Harry Potter titles are constantly at the center of banning battles, but it may come as a surprise to learn that Maya Angelou, Judy Blume and Maurice Sendak, among many others, are popular authors to target. Visit www.ala.org to learn more about this important week and to read the list of the most frequently banned books.
To those of you in New York City (or looking for a good reason to visit), two upcoming literary events are worth mentioning:
Dorothy Parker fans, stock up on your whiskey and witticisms. September 30-October 2 is Parkerfest 2005. This annual celebration of the lovely Ms. Parker is going to hit NYC by storm. Plenty of events are planned for the entire weekend, but the coup de grace will be the Saturday night Bathtub Gin Ball and Speakeasy Boat Cruise. A three-hour ride around Manhattan on a 1930's yacht, the night will feature live jazz, dancing, an auction, and a costume contest. Oh, and an open bar. To find out more or purchase tickets, visit www.dorothyparkernyc.com
Denyse Schmidt, quilter extraordinaire, will be teaching a one-day workshop at Make in the lower east side on September 17. She'll be signing copies of her new book as well. www.makeworkshop.com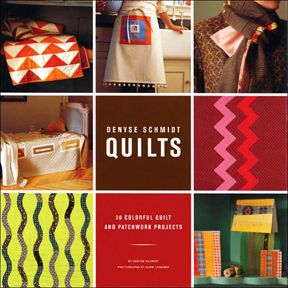 Speaking of her new book, "Denyse Schmidt Quilts" has finally hit the shelves. Detailed instructions and patterns for projects as far ranging as slippers, scarves, tote bags, and even a heating pad cover, are all offered up, along with all the info needed to create one of her wackishly modern quilts. Beautiful photographs accompany all projects.
And, on a final note:
Urgent 2nd Class by Nick Bantock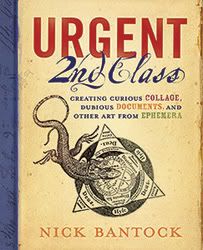 In my late teens, I had a mad crush on a boy named Van who played guitar and had floppy red hair. For my 18th birthday, he gave me a copy of Griffin and Sabine by Nick Bantock and, I kid you not, changed my life just a little bit. Years later, and I've long lost touch with Van, but I own every single Nick Bantock book in print. His blend of words and images opened up a whole world of ideas, and showed me that books could be interactive in a way that I had not experienced since my childhood pup-ups.
"Urgent 2nd Class" has not left my bag since I picked it up a few weeks ago. This guide to creating, as the subtitle states, "Curious Collage, Dubious Documents, and Other Art from Ephemera," is really quite brilliant, and a must-have for any Bantock fan, paper crafter, or artist-crafter in general.
Don't Get Too Comfortable by David Rakoff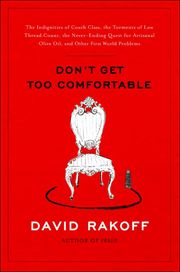 This is the newest collection of essays from the "This American Life" contributor and writer of the hilarious "Fraud." Wonderful all-around, of particular interest to readers of getcrafty will be his essay entitled "Martha, My Dear" where he waxes poetic on his own love of crafting, as well as his visit to the Martha Stewart Living Craft Department and his attempts to learn what has happened to all of the handmade gifts he's bestowed upon lucky recipients over the years. He's the kind of guy you read and then really, really want to be friends with.
Happy reading.
Jessica Reed is a writer, artist, and bibliomaniac. She spends her days working in publishing, her nights working on her MLS, and her late nights passed out in her Brooklyn apartment. She wishes she had more time.