Written on July 16, 2005 10:06 AM
I never really thought of myself as a book collector. Sure, I had a few hundred (yes, hundred) books taking up space in my apartment, but they were simply titles that I had bought one by one because, at the time, they looked rather interesting. Even if I owned the entire body of work by particular author, I always thought that a collector was someone who bought old, rare books or invested in insanely expensive signed Faulkner first editions. Collectors were serious, stuffy, haunted people; in the few films that have been made about book collectors someone always gets killed or possessed by the devil or, at the very least, maimed in some way, and I certainly had most of my mind and all of my limbs.
And then one day, I set out with tons of purpose and very little money to buy one particular book—My Way of Life by Joan Crawford. How-to books that tell women the best ways to be, well, women, have always been a fascination of mine. Perhaps it's the hopeful idea these books create that everything a girl needs to know to be pretty or popular or a good hostess may lay within a few hundred pages. Regardless, it was Mommie Dearest herself, dishing diet advice and decorating tips, and I had to have it. I found it easy enough, used on amazon, for around $10. At the time, that was a lot of money for me to be spending on a book that I really, really wanted but shouldn't-I-buy toilet-paper-or-bread-or-something-more-practical? I bought it anyway.
That was the moment I realized you become a book collector when you seek out titles beyond simply wanting something to read on the train or before you go to bed. I knew that, given all of the fantastic books to devour out there, I may never read it cover to cover, but that wasn't the reason for sacrificing two days worth of lunch money in order to buy it; my desire for the book had to do with the idea that such a book even existed. And with that, I happily became a collector.
So what do you do if you want to take a varied mass of books and start what could proudly be called a collection? Unless your interest is in signed first editions or books that are investment pieces (in which case, a whole new set of rules apply), the books that you buy needn't be expensive—I found one of my favorite and most prized books for 50 cents. Look for both new and used books, especially online and in used/thrift shops. Independent bookstores can be better than chains because, although they may not stock every new title under the sun, they are more likely to stock quirky, niche books on their shelves.
The trick to buying is to be a conscious shopper—have a pretty good idea of what kind of book you want—and follow the trail from book to book. The review sections in magazines are often a good place to start as they sometimes list comparable titles, and it never hurts to read the often-overlooked bibliographies and suggested reading sections in most non-fiction titles. As well, scour the recommendations on amazon, especially the customer generated lists which can provide a gold mine of titles. Lastly, do not dismiss the information superstars that are used book store employees. Although sometimes a little harder to approach, they tend to be more knowledgeable than the chain people, and can be veritable encyclopedias of book info.
The wonderful thing about collecting books is that it takes you beyond general fiction and the broad categories of non-fiction. Once you've picked up a few titles, look for specific links between your books to create personal collections that reflect your life, interests and passions, and get a little creative with your collection names. I've started one collection called "How to Become Almost Anything" (the Crawford falls into this, as does my copy of The Official Preppy Handbook and books that I have on disguise and creating a new identity), and another that pulls together "Books by and about Wacky Women." *
Once you have your books gathered, display them. The proper way to store a book is vertically on a bookshelf with a nice space between each title. The purists may strike me down for saying this but, unless you're investing or wanting to pass the books onto future generations, there is no reason to keep them stuffed on a shelf. Display your collection on a table or stacked in unexpected places. This is especially important if you collect your books for the cover art (another collection that I have). One way to show-off these titles is to install thin shelving (like the kind some use when they want to rotate art frequently), and then put the books face-out.
Whatever you choose to do with your books, the most important thing is that you use them. Once your have a strong collection (or two, or three…) going, it becomes practically impossible to read every word, but al least get to know the books in your collections. Take care of them, share them, reference them, dust them, love them. Then you really are a collector.
Recommendations:
Amazon.com
Abebooks.com (great for used and out-of-print titles)
Kitchenartsandletters.com (website for the wonderful NYC shop that specializes in vintage cookbooks)
Book Finds by Ian C. Ellis (especially if you're interested in investment books)
* Two recent additions to this collection are very worth mentioning:
Nasty by Simon Doonan. This is the third book from the wonderfully eccentric window dresser. Following the glimpses into his world in Confessions of a Window Dresser and Wacky Chicks, Nasty is a very funny, touching, and oddly inspiring portrait of Doonan's life. It's easy to call him David Sedaris's British doppelganger, but it would be wrong to dismiss him as just that. This is a terrific book.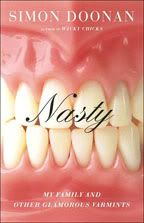 The Secret Life of the Lonely Doll: The Search for Dare Wright by Jean Nathan. One of my favorite books last year when it came out in hardcover, the paperback is due out at the beginning of August, and is a fascinating and tragic biography of Dare Wright, photographer and writer of the popular 1950's children's book series, The Lonely Doll.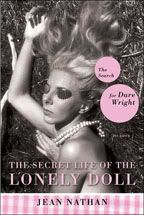 Jessica Reed is a writer, artist, and bibliomaniac. She spends her days working in publishing, her nights working on her MLS, and her late nights passed out in her Brooklyn apartment. She wishes she had more time.