Written on October 5, 2005 11:19 PM
October may very well be the most stylish month of the year. The weather begins to cool down enough for light sweaters and jackets, school is full in session, the fall book season kicks into high gear (yes, even books have seasons), and Halloween caps it all off as the day most forgiving to whatever freaky style you feel like expressing.
In honor of some popular fashions for the fall season that October fully lets out of the closet (as well as the ever-loved Halloween) I give you a few stylish reads to curl up with as the temperature drops.
Mod
ROSEMARY'S BABY by Ira Levin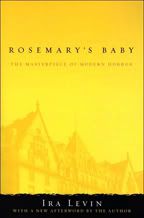 I'm a bit of an Ira Levin junkie. His novels are campy, but deliciously creepy, and very adaptable to the silver screen as proven by the numerous films made from his bestsellers: The Stepford Wives (original version only!), Sliver, A Kiss Before Dying and, of course, Rosemary's Baby. This cult classic, which is a must see, may have skyrocketed Mia Farrow and her celebrated haircut into superstardom, but it was Levin's 1967 novel that first made every city apartment dweller, then and now, wary of the nice, if nosey, old couple next door.
A quick read, Rosemary's Baby is as much about the culture and feel of 1960's Manhattan and its young uptown inhabitants as it is about satanic cults and manipulation. There is something very glamorous about the book, yet truly eerie. Today's standards have certainly altered what we find to be frightening, but that's the great thing about this novel—it still manages to scare, without a single razor-tipped glove or hockey mask in sight.
Goth
THE BLOODY CHAMBER by Angela Carter



Angela Carter has an unusual voice that is at once both proper and brazen. Her work is eccentric and always so damn well written that even violence and sex take on a languid, dreamy air. Carter penned many brilliant novels before her death in 1992, but this slim volume of short stories is a particularly interesting read.
A retelling of classic fairy tales, from Little Red Riding Hood to Beauty and the Beast, this is not a book for the young ones. Carter was big into exploring the roles, particularly sexual, that women play in the world, and these tales take the idea of the enchanted princess, devoted daughter, and humble wife to an entirely new level.
Victorian
JANE-EMILY by Patricia Clapp
(sorry, no cover available, but it's a good one—classic seventies)
My mother read this book to my sister and I when we were kids. I loved it but, as can happen to people who've read way too many books, I grew-up and found myself unable to recall the name. For years, I half-heartedly searched, telling what I could remember of the plot—a somewhat lonely young Victorian girl who is haunted by the ghost of another lonely, but slightly evil, young girl whose spirit resides in a garden globe —to book store employees, librarians, and even elementary school teachers who had the unfortunate luck to make my acquaintance. Blake stares all around. Then, one day, I asked about it on the book search forum at abebooks.com. Not even one day later, thanks to a nice woman from Vermont, I had my answer. Jane-Emily.
Sadly, this is a very out-of-print title, but used copies abound online. When mine arrived, I read it in one sitting and was happily surprised to find that I love it as much now as I did then. This is a classic Victorian ghost story for kids of all ages.
Punk
BAZAAR BIZARRE by Greg Der Ananian (on sale 10/20)


As the subtitle says, these are "not your granny's crafts." Der Ananian, founder of the annual Bazaar Bizarre craft fair that began in Boston in 2001, presents crafty readers with a slew of projects. Most will not be new to getcrafty kids—a sock monkey, tote bags, and cross stitch abound—but it's how the contributing crafters have interpreted their creations and what they've used to create that makes this book so refreshing.
Learn how to generate clip-on hair extensions, a Trashy Quilt, playing cards, and vinyl cuffs, among other things. Color photos of the final results are bound in the center of the book, while illustrations and step-by-step instructions accompany each project. Yet the true highlights of the book, for me at the very least, are the interviews and portraits that accompany each contributor's section. From favorite bands and films, to ideas on art versus craft, you get philosophy and vision, and are left feeling like you just sat through your favorite high school art class.
Nouveau Prep
Strunk and White's THE ELEMENTS OF STYLE, ILLUSTRATED by Maira Kalman
(on sale 10/20)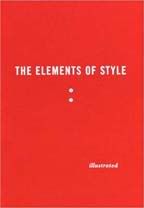 Most of us have a cheap paperback version crammed in a bookshelf of this classic style manual we learned to love—or hate—when being forced to write boring papers in school. So why, you might ask, am I suggesting it to you? This edition happens to be brand-new, fully illustrated, and simply beautiful.
The package resembles a textbook from the 1950's: bright red cloth cover, clean white type, simple and unadorned. Inside, it's ripe with illustrations by artist Maira Kalman, who has created bold, interesting, and colorful interpretations of Strunk and White's rules and examples for grammatical correctness. Kalman has managed to turn a must-have reference book into a must-have art book—a remarkable feat to say the least.
Jessica Reed is a writer, artist, and bibliomaniac. She spends her days working in publishing, her nights working on her crafts, and her late nights passed out in her Brooklyn apartment. She wishes she had more time.