Written on April 2, 2006 7:16 PM
It all started with this: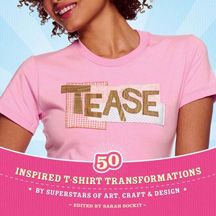 Full disclaimer: I work for the Penguin, the publisher of this brilliant tome, and have spent the last year eagerly anticipating its debut to the world. Early on, I saw only a few examples—projects from Todd Oldham, Cal Patch, and Leah Kramer—but those were enough to wet my appetite for doing wacky things with tees.
Fast forward to a few months ago. I'd been proudly (and sometime not as proudly) wearing my creations around for some time, and had received many complements and inquiries for purchase. It was easy enough to supply the occasional friend with a tee in trade for a couple of cocktails or a movie, but when relative strangers began to take interest, I realized that I'd have to enhance my skills, do a lot of research, and get organized if I was to ever make even a modest profit from my cotton creations.

As I was doing a lot with iron-ons (and quickly discovered the limits of working with), one thing that I wanted to learn was the lovely art of silk screening. Unable to find a book on the market that fit my attitude and tastes, I purchased this cool DVD from fredflare.com…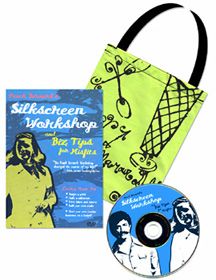 Yes, I know I took the non-bookish road, but sometimes even the most ardent book nerd needs to branch out. That said, this is a fantastic learning tool not only for the process of silk-screening, but Kingi Carpenter, the lovely lady behind Peach Beserk, even offers up small creative business advice, something that I find to be priceless. Bonus for the cute hand silk-screened bag the DVD come in.
So I had a new skill, but now I needed to learn more about that whole overwhelming, confusing, irritating world that is business, or how to run one legally and with out loosing your mind. In digging around online and in bookstores, I came across these two tomes that have been, if not comic book clear, at least accessible.
How to Start a Creative Manufacturing Business is an e-book written by Pamela Barsky, creator of her own line of crafty items and owner of a successful Los Angeles boutique. Though I think that the book, available from her website pamelabarsky.com, is VERY overpriced at its current $21.95 and lacks a table of contents, I did find a ton of helpful information that I was not finding elsewhere, especially information on pricing and how to deal with trade shows and consignment.
Though I'm not quite at the point of going full steam ahead with registering a business name and shopping for an accountant, I did want to learn what in the hell I would need to do when (and if) the time ever came. This book…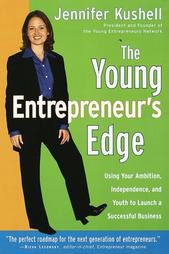 is one of the better small business guides out there, and provides a wealth of information on taxes, business plans, and all of the drier, but necessary, knowledge.
So I had the product and the business brain buzzing, but what I needed now was info on the crucial skill that is self-promotion. As luck would have it, this book arrived on store shelves not long ago…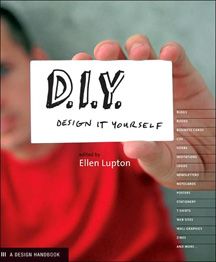 and I absolutely LOVE it. Chock-full of info on logos, business cards, blogs, and on and on, DIY is all about self-promotion at its basest, most creative and personal level. With clear explanations, information, and examples, this book is a must have for any and all creative types. There's even a section on customizing tee shirts!
Which brings me back to the beginning and the book that started it all. Tease goes on sale April 4th. My finished copy came in not long ago, and it was better than I even expected; it is a beautiful book. Check out Susan Beal's West Coast Crafty column for an interview with the book's editor and packager, Sarah Sockit, and then run out and pick up a copy. You never know what it will inspire you to do.
Happy Spring, and keep a look out on Etsy for my tee's sold under the moniker by Reed. They're not up there quite yet but the logo (created with the help of DIY!) is!